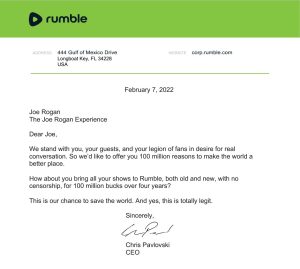 Amid all the Joe Rogan controversy, Rumble has thrown its hat in the ring to offer the popular podcast host a new platform. The video streaming service is offering Joe Rogan a four-year $100 million contract to move The Joe Rogan Experience to their platform. Spotify already provided Rogan with a $100 million contract last year, however, Rumble is promising not to censor any of his content. After the Neil Young controversy, Spotify promised to protect one of its most lucrative content creators, but the race card recently came into play. Internet trolls have made a compilation of Joe Rogan saying the N-word, which he profusely apologized for while admitting the videos were taken completely out of context. There is currently a video of Joe Biden circulating from the 1980s where he mentions the N-word while quoting someone else. I felt it would not be fair to share that video or use it to paint Biden as a racist since it too was taken out of context. Despite Rogan apologizing, Spotify caved to the woke crowd and over 100 episodes of his show.
Daniel Ek, the Spotify CEO, initially supported Rogan. He pulls over 11 million viewers per episode and surpasses every other podcast creator. It would be a poor business decision to drop Rogan completely. However, Ek sided with the woke crowd painting Rogan as racist and said that they had to pull numerous episodes off of their platform to balance "creator expression with user safety." Rogan has continued to apologize, but the media is determined to paint him as a racist despite being a father to a 23-year-old adopted biracial daughter.
Rumble has been growing in popularity since YouTube deemed itself the misinformation police by removing any video that notes an opinion that differs from the leftist narrative. In fact, I had a video removed from YouTube the first time I went on the Laura Lynn Tyler Thompson show. YouTube removed the video within hours of it being posted. Senator Rand Paul announced that he was leaving YouTube for Rumble in January after he was censored. "I've decided I'm going to quit giving them my content. I'm going to give my content to somebody who has a similar viewpoint to mine on speech, not necessarily politics," Paul told reporters.
While it remains unclear if Rogan will take up Rumble on their offer, people are seeking platforms where they can speak freely. Independent news sources are becoming extinct in today's society, where only one school of thought is allowed to present their opinions. This is why former President Trump is attempting to launch Truth Social to provide a platform for those who do not hold extreme left views. Either way, the "fringe minority" will be heard.