Blog/Ancient History
Posted Apr 11, 2019 by Martin Armstrong

There have been discoveries of Roman coins in Japan as well as in North America. There has even been the discovery of a Roman sword in Newfoundland. Now, a treasure hunter with a metal detector uncovered seven Roman coins that washed up on a beach here in the Tampa region. This is strong evidence that there must have been a Roman shipwreck off the coast of Tampa or in nearby proximity.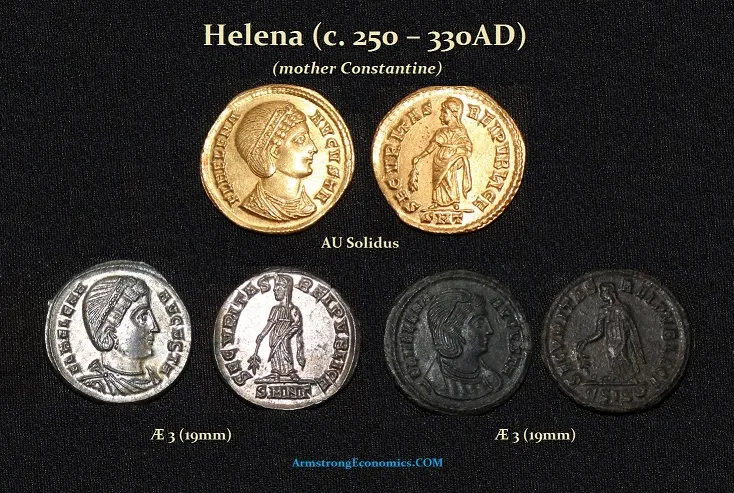 These coins are of the 4th century from the era of Constantine. They are bronze and of no particular rarity. In such a condition, they are really worthless. Nevertheless, there certainly seems to have been Roman ships that crossed the Atlantic long before even the Vikings, no less Columbus.
There are accounts that the Roman Emperor Marcus Aurelius sent diplomats to China around 180 AD. There are no written records from Rome, but there are written records from China confirming that meeting and even a recording of the name of the Roman emperor.
There are no documents that confirm Romans traveling across the Atlantic, yet there is evidence that they were indeed here in North America. This raises the possibility that these were one-way trips, perhaps from a ship caught in a storm and set on its path to America.
The left coin in this photograph is clearly one of Saint Helena who was the mother of Constantine I the Great. She was a devout Christian who set out to discover the major places in the Holy Land. She built the church in Jerusalem over Calvary and near the tomb of Jesus Christ.