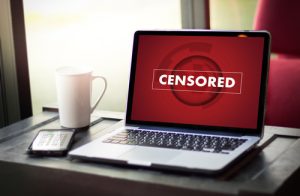 The elites do not want the people openly discussing ideas. They are threatened by original thoughts and want to limit our available information for their protection. Banning together would be a threat to government, and they cannot allow the masses to know what is going on behind the scenes. PM Justin Trudeau has banned all free speech. He censored the news that could be shared on social media, and now he is cracking down on podcasts and livestreams.
The Canadian government, armed with one of the world's most repressive online censorship schemes, announces that all "online streaming services that offer podcasts" must formally register with the government to permit regulatory controls:https://t.co/wHOloLgnY2 pic.twitter.com/6noTYceVsg

— Glenn Greenwald (@ggreenwald) October 1, 2023
Podcasts have exploded in popularity in recent years. People like Joe Rogan attract millions of monthly listeners, and he freely and openly discusses theories, conspiracies, government ploys, and any other topic of interest. The Canadian Radio-Television and Telecommunications Commission (CRTC) will now regulate, or "modernize," in their words, podcasts. "We are developing a modern broadcasting framework that can adapt to changing circumstances. To do that, we need broad engagement and robust public records. We appreciate the significant participation during this first phase and look forward to hearing a diversity of perspectives at our contributions proceeding in November," stated Vicky Eatrides, Chairperson and Chief Executive Officer, CRTC.
They will begin by targeting the most popular podcasts first. Anyone earning over $10 million through online streaming must register with the CRTC by November 28, 2023. Then, the content creator must provide the agency "with information related to their content and subscribership." The Canadian government wants to know who is listening to these perceived anti-government networks and track these dangerous characters.
The CRTC is holding a three-week (yes almost a month) proceeding to determine how they can support Canadian and Indigenous content on streaming platforms. Even their lie of wanting to promote Canadian content was poorly executed. This is Trudeau's Ministry of Truth. He is silencing all opposition and preventing the public from sharing ideas. This will be more important than ever as we move toward 2032.