Blog/Scandinavia
Posted Oct 11, 2019 by Martin Armstrong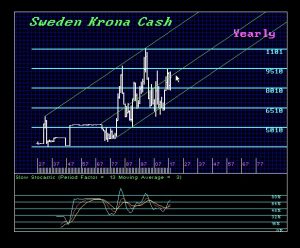 QUESTION: SOS from Sweden:
Dear Mr. Armstrong,
Please take a look at Sweden. I know you can not look at every single country but Sweden would be interesting since it is the country were socialism has gone farthest in the world and totally crazy. One of the most well-organized countries in the world with the oldest Central bank and well run global companies have turned into total chaos. Socialism has turned a peaceful country into a crime capital. Rapes are now among the highest per capita in the world. Robbery likewise. We are flooded with immigrants from MENA countries that have no skills. Many can't even read. They live on welfare and get better paid than people working. Taxes are going through the roof. Police force under extreme pressure. Jails are overfull. Same with healthcare and education.
The municipals are bankrupt. They borrow via Kommunivest to meet the gigantic burden of immigrants. The loans go to welfare paychecks, not to investments. Kommuninvest issues international bonds and then lend to all municipals. International investors do not know how bad the financial situation is for Kommuninvest. It's the Black Swedish Swan that is going to blow up soon. Mr. Hans Jensevik is the one person in Sweden that has worked with the municipals economy all his life. He is a very respected old-timer. He has even come out with a video warning international investors from buying Kommuninvest bonds!
Government debt is not catastrophic but the municipals are. The Government made the municipals take on the debt when the state unloaded immigrants in all our 290 municipals… Many municipals are now warning they are bankrupt and need emergency finance. So the Government is going to be forced to bail out the municipals very soon.
The state own media dominates TV and radio. Imagine only CNN running TV and radio channels in the US! Competitors only allowed entertainment. State own media pushing agenda on mass-migration, open borders, climate change, pro-euro and hate for Trump. All newspapers are subsisted by Government running the same agenda. Swedish Riksbank is trapped and forced to follow ECB down the drain with subzero rates and more QE. The SEK is tanking. This is not going to end well.
Could you please shed some light and interpret Socrates outlook for Sweden, SEK and OMX30
Thanks for your great work.
SG
ANSWER: The impact of migrants in Sweden has been the worst in Europe. Then you have this climate change nonsense that led to "flygskam" or "flight shame" in Sweden. This provides a threat of a sharp decline in flights as people are being looked down upon for flying, thanks to Greta Thunberg, because it hurts the environment.
There is no question that we also see the dollar rising here as well, The economy of Sweden is turning down very hard on the ECM turning point. A closing for 2019 above the 94600 levels will confirm the greenback's advance. The share market has been trying to reflect the currency decline and has risen only due to currency inflation.
We are witnessing a sovereign debt crisis that has become at the municipal levels and then migrating to the state or province level. Anything less than the federal level means they lack the ability to create money. This all they can do is constantly borrow with no hope of repaying at any time in the future.