Blog/USA Current Events
Posted Apr 14, 2016 by Martin Armstrong
Judge John Walker, Jr
The Second Circuit back in March refused to reverse a contempt order imposed on an allegedly recidivist stock fraudster. What is amazing is Judge John Walker, Jr, Bush's cousin,  grabbed his appeal and really abused his power. This guy should be driven from the court with tar & feathers like in the old days. Edward A. Durante, was sued by the SEC over a purported stock manipulation scheme involving Internet technology company Wamex Holdings Inc. Durante's challenged the contempt order stating the contempt is not supported by clear and convincing evidence. No contempt in New York city ever complies with the constitution in federal court that I have ever seen.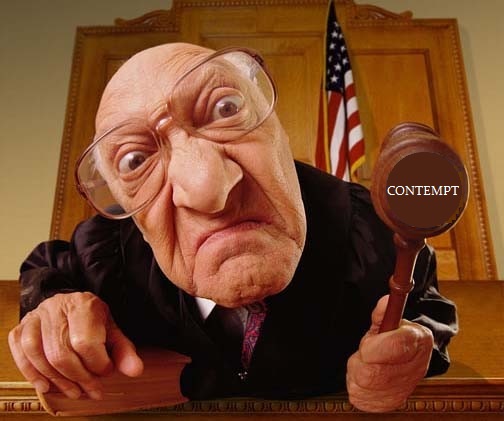 Durante plead guilty to criminal charges based on the same conduct and was imprisoned from 2002 to 2009. He had paid over $35 million in assets handing them to his former attorneys in 2002 for restitution in the criminal case. He argued that the SEC has failed to show he had not been compliant with the government. The SEC contended that Durante was still on the hook for over $25 million to them. Durante argued that the default judgment was ambiguous, since it purported to be a disgorgement order yet also required Durante to turn over assets already seized by and relinquished to the government. Durante claimed he had already marshaled his assets for the government before his sentencing in 2003, and said SEC lawyers affirmatively represented to him in 2004 that the judgment was satisfied.
Nevertheless, Judge Walker found that because the default judgment instructed Durante to pay the funds to the "clerk of court", any disgorgement by assignment or transfer of assets to a third party was irrelevant. So in other words, every agency can go after you for the same amount of money because Walker effectively held that if you paid even in full to one agency, it does not matter and cannot be credited toward another. There is absolutely no foundation in law for Judge Walker's abusive pro-government decision.
Now this week, another contempt was imposed in New York City federal court confirming anyone who has any account tied to a New York entity should get the hell out of town and fast.  New York U.S. District Judge Paul A. Engelmayer on Tuesday said the founder of defunct hedge fund ThinkStrategy Capital Management LLC, who owes the SEC and others nearly $30 million, is still in contempt of court and must remain incarcerated indefinitely. Engelmayer said he was troubled by the lack of effort on the part of Chetan Kapur to show that he doesn't have access to significant assets or to help his attorneys gain access to an email account which may shed light on whether or not he has funds in overseas bank accounts. In other words, he is in prison and will not be released until he PROVES he has no money overseas. The SEC has flipped the law so you are now guilty until you prove yourself innocent.
Now Kapur's lawyers are considering taking legal action in D.C. federal court to compel the International Consortium of Investigative Journalists (ICIJ) to release the information from the Panama Papers on Kapur so they can prove this negative. So the ICIJ have all these documents which they are REFUSING to release probably because it impacts people they support like Hillary, and the public really does not know the full truth. This case may be very interesting since the only way for Kapur to now get out of prison is to prove he does not have funds overseas. Contempt is supposed to be "coercive" so this requires you to do something that the court "knows" you can do. To imprison someone indefinitely because he "might" have funds overseas you do not know about is exactly opposite of the law and violates human rights. You cannot prove a negative and there is no possible way any federal judge in New York would ever believe a citizen over the government. It will NEVER happen. There have been a few exceptions of an honest judge. But they are rare indeed. The NY Federal courts no longer follow innocent until proven guilty. They are using contempt where suspicion is equivalent to proof; trial to condemnation if they would allow you a trial and with contempt they say you have no right to a public trial.
No one should have any account in New York City simply because they can do whatever they want and you have no chance of going to court and getting a fair heading against any of the New York bankers. Just stay the hell out of that town. MY STRONGEST ADVICE – DO NOT HAVE ANY ACCOUNT WITH ANY INSTITUTION DOMICILED WITH ITS HEADQUARTERS IN NEW YORK CITY. The Southern District of New York will protect the banks 120% against any customer. Deal ONLY with institutions domiciled in other states (NOT A BRANCH OF A NEW YORK BANK OR BROKER). It is impossible to obtain a fair trial in NYC and Judge Walker will deny you a trial under the pretense that a judge's personal desire for power supersedes the constitution and still has the powers to act as they did under King George III. In other words, the American Revolution did not change any powers of a judge. Congress passed a limit to civil contempt of 18 months imprisonment maximum, 28 USC 1826. Judge Walker has ruled judges have "inherent" power that Congress cannot override and due process of law has no restraining impact.
Many argue you cannot do business in Russia or China because they still lack the RULE OF LAW. I am sorry, but so does New York City. When I asked a lawyer in New York why the government never charges bankers; his response was telling: "You do not shit where you eat." There is simply no hope to save the system anymore without a complete crash and burn. Even if you found a journalist who would champion your case, they are subject to their editors and follow the commands of management who in turn are also subservient to the bankers. It is hopeless. All you can do is get out of town. These judges will imprison you for life in New York City using contempt and deny you any trial and they are void of any pity or remorse no less honor. It is now the judges who have complete contempt for the Constitution, human rights, and the RULE OF LAW. When the RULE OF LAW collapses, so does society.
Edward Gibbon wrote in his Decline and Fall of the Roman Empire:
"Suspicious princes often promote the last of mankind, from a vain persuasion, that those who have no dependence, except on their favor, will have no attachment, except to the person of their benefactor."
Edward Gibbon wrote of him: Each
"distinction of every kind soon became criminal. The possession of wealth stimulated the diligence of the informers; rigid virtue implied a tacit censure of the irregularities of Commodus; important services implied a dangerous superiority of merit; and the friendship of the father always insured the aversion of the son. Suspicion was equivalent to proof; trial to condemnation. The execution of a considerable senator was attended with the death of all who might lament or revenge his fate; and when Commodus had once tasted human blood, he became incapable of pity or remorse"
(Book 1, Chapter 4).