Posted Sep 30, 2022 by Martin Armstrong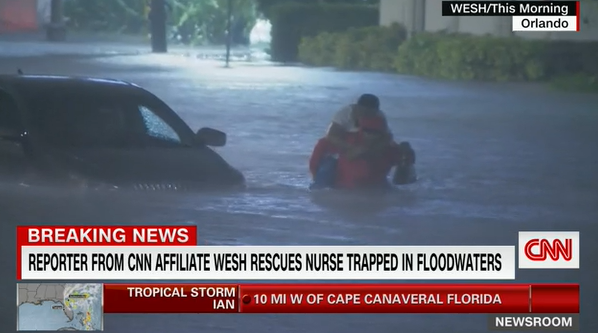 Every channel I turned to, did nothing but search out the worst possible scenes. Nowhere could I find any information about the roads in general. I finally asked someone at the hotel if there was any problem with I4. He said no. He drove it to work. Those of us on the West Coast were told it was a mandatory evacuation. The storm then turned west at hit southern Florida. That was a direct hit by a near Cat 5. Granted, that was a significant storm and much of the region was simply wiped off the map.
With over 1 million told to evacuate, not a single broadcaster bothered to cover anything worth listening to for more than 5 minutes – the same pictures and the same headlines.  I left Orlando this morning. It was a grueling drive for 3 hrs from Orlando to Tampa. Not one broadcaster bothered to say hey it's OK to return. It was up to us to scrounge to find something relying on others who made the drive to say there was no flooding.
What they also FAILED to report, was that the Tampa region got the REVERSE Storm Surge. That does not make for dramatic photos. The water in Tampa Bay was sucked out by the upper side of the storm moving counter-clockwise. Boats were left in the mud. On the beach, the Gulf was pulled out 200-300 yards.
No one of the major networks too the time to show the full story. From Tamp north, there was no damage and when the water came back, it was not a 10ft wall of a tidal wave as some said would happen.
This is all FAKE NEWS. All they want to show is the most dramatic scenes. They totally failed the vast majority of people for the very places that were showing were without power so whoever was there could not watch anyway. Thus, their coverage was by no means a public service. It was the standard exploitation for ratings.