Posted Feb 10, 2022 by Martin Armstrong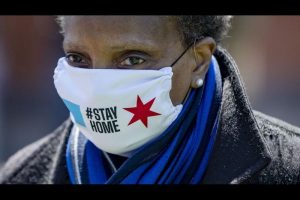 Crime has been sweeping the nation since Biden announced his light on crime stance. Chicago, an urban warzone, has seen a sharp uptick in criminal activity so rampant that police cannot keep up. Murders reached a 25-year high last year, and Neighborhood Scout reported that 1 in 103 people in Chicago is at risk of becoming the victim of a violent crime. One out of every 39 people in the city risk becoming the victim of a property crime in Chicago as well, and the numbers worsen by the day. It is no wonder that people are fleeing the state of Illinois, with more people leaving the state in 2021 than any other time period on record. Chicago has continued to lag behind the national average for economic recovery and has not shown strong signs of improvement.
Mayor Lori Lightfoot has done nothing to solve the crime wave crisis. However, she is now blaming her own policies for the increase in carjackings. Lightfoot said that "pure boredom" from remote learning led kids with no prior involvement in the criminal justice system to turn to…carjacking. At least half of those arrested for recent carjackings have been minors under-18.
The Chicago Teachers Union is outraged with Lightfoot's comments. It is demanding an apology for claiming "with zero evidence that there was a correlation between remote learning in 2020 and an increase in carjackings." What she should actually apologize for are her forced remote learning policies that, in her words, led to increased crime among the youth. The Chicago teacher's union also pushed for remote learning, with 73% approving the measure just last month.
Carjackings went up by 68% on an annual basis from March 2019 (88) to March 2020 (148). Chicago Police Supt. David Brown has stated that this year's number is already at 177. Teachers are not babysitters, and there is a deeper issue at play in Chicago that surpasses the conversation of economics. However, those responsible for making policies concerning children must take responsibility, especially if the parents will not.