Blog/International News
Posted Sep 13, 2023 by Martin Armstrong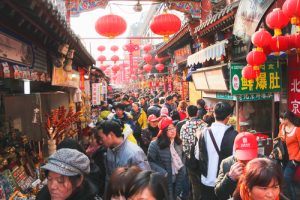 China is considering a new control tactic by dictating what people can wear. We see this in numerous Islamic nations where women are forbidden from being in the public eye uncovered. However, China's upcoming dress code is not due to religion. China is seeking to eliminate any attire that could be seen as anti-government or not aligning with Chinese values.
The National People's Congress' Standing Committee said that antipatriotic is "detrimental to the spirit of the Chinese nation." Extreme fashion trends favor and celebrate individuality, a big no-no in CCP culture. Tattoos are also under question as they are associated with "overseas culture," "feudal superstition," and "gang culture." The State Cyberspace Administration actually prohibited social media platforms from showing tattoos and businesses may fire employees for getting ink. Taxi drivers, for example, were told to remove any large tattoos in the city of Lanzhou as it "may cause women, children and other passengers feel psychological discomfort."
The CCP has not detailed what clothing would be prohibited but stated that anything that could "hurt the nation's feelings" could be banned. You don't have to wear a "f—the government" or Winnie the Pooh shirt to receive a fine. One woman was reportedly detained by authorities for posing in photos wearing a Japanese kimono. "The police said what I did was wrong. I feel powerless … I like Japanese culture, European culture and I also like traditional Chinese culture. I like multiculturalism, I like watching anime, is it wrong that I like anything?" the woman posted online. Yes, in China that is wrong because the government wants to be the ultimate authority and does not want its citizens influenced by other cultures, especially the likes of former enemies like Japan or the West. Nationalism and pride in one's culture come before individualism, a concept celebrated in the West. Dressing in woke attire, such as men wearing clothing meant for females, also may be banned. These are simply concepts that are not tolerated by the CCP.
Those who disobey the dress code could face a fine of 5,000 yuan ($681 USD) and up to 15 days in jail. Half a month behind bars for wearing the wrong clothing. Government tyranny has never been limited to one form of government — the control they have over our lives is unbelievable.