Blog/Hong Kong
Posted Jul 3, 2019 by Martin Armstrong


Civil unrest is continuing to rise in Hong Kong after crowds of mask and helmet wearing demonstrators fled the area to escape hundreds of riot police firing tear gas. The entire issue has arisen from Lam's government pushing legislation that would allow extraditions to China, a move that alarmed locals and multinational companies. The clashes have embarrassed the government in Beijing. The demonstrations came on the anniversary of the former British colony's return to Chinese rule.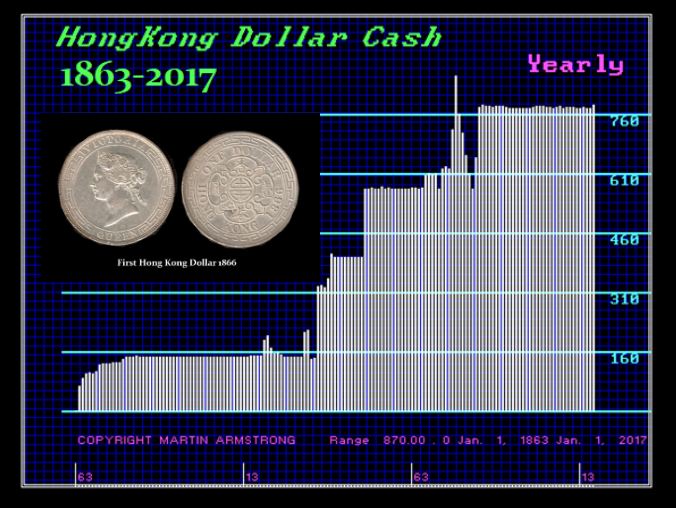 In 1863, the Hong Kong Government declared the silver dollar (a form of international currency issued by many nations) to be the legal tender for Hong Kong. In 1866, the government began issuing a Hong Kong version of the silver dollar. The silver standard became the basis of Hong Kong's monetary system until 1935, when during a world silver crisis, the government announced that the Hong Kong dollar would be taken off the silver standard and linked to the pound sterling at the rate of HK$16 to the pound.
In 1972, the Hong Kong dollar was pegged to the U.S.dollar at a rate of HK$5.65 = US$1. Between 1974 and 1983, the Hong Kong dollar floated. On October 17, 1983, the currency was pegged at a rate of HK$7.8 = US$1 through the currency board system.
The problem Hong Kong will face is as the financial crisis in Europe erupts it will push the Greenback higher. If Hong Kong keeps desperately trying to hold the peg, they will import DEFLATION and turn their economy down very hard all because of international events. The models we showed at the Singapore Conference targeted 2019 for an important turning point.
The Hong Kong dollar peg climbed as much as 0.19% to 7.7987 a dollar on Tuesday, crossing the 7.8 threshold. Local interbank rates remain near a decade high, outstripping the income a trader can expect on U.S. dollars. That's undermining a carry trade — sell Hong Kong dollars, buy greenbacks — that had been profitable for years.
The tight liquidity is coinciding with dramatic street protests. There has been a surge in borrowing costs suddenly. Companies are hoarding cash.