I reported in June that the Ukrainians would claim Russia had targeted their wheat silos, and it all comes back to the Ukraine Reconstruction fund by JPMorgan Chase and BlackRock. BlackRock had a tape leaked of a recruiter discussing Russia blowing up Ukrainian wheat silos, causing wheat prices to skyrocket due to shortages. The employee said that Ukraine is great business for BlackRock. As I mentioned earlier:
"Our war cycle indicates tensions will pick up in 2024 – hold on tight. Expect false flags of Russia targeting wheat silos and soaring food prices. Everything is aligned with the Great Reset; this is the branch that is aiming to financially alter the world while others are working on destroying society from within. Ukraine must be destroyed to BUILD BACK BETTER the global financial system."
And here we have it, folks. Kiev announced that Russia has destroyed 60,000 tonnes of grain in Odesa. The grain was allegedly set aside for imports, so it will not be Ukraine's fault when food inflation spikes. "The grain infrastructure of international and Ukrainian traders and carriers such as [Ukrainian] Kernel, [Canadian] Viterra and the [French] CMA CGM Group suffered the most," the ministry said. "The world's food security is once again in danger," it added.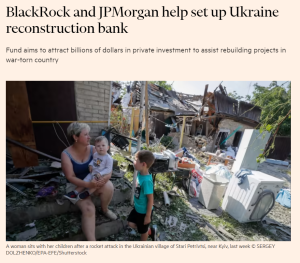 Now Zelensky is saying the Russians deliberately targeted the grain. Yet, those funding Ukraine are relying on wheat prices rising and this benefits Ukraine greatly. Food prices will rise and everyone will blame Russia. Meanwhile, those funding the war are sitting back and laughing at the entire world for they knew the plot all along.