Blog/World Events
Posted Sep 4, 2016 by Martin Armstrong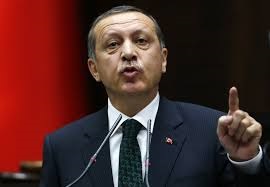 President Erdogan turning to Russia and shaking hands with President Putin in St. Petersburg should send a red light to NATO that all nukes must be withdrawn from Turkey ASAP. This reset of Russia-Turkey relations is strategic on Erdogan's part. The joint statement indicated the two leaders' willingness to cooperate in several fields and highlights both Moscow and Ankara's domestic and international policy objectives. He has also sold off about 50% of US Treasuries more than any other government. You do not do that to support a currency. This is political.
President Erdogan plans to achieve his main goal of repairing the economy by entering a partnership with Moscow that will help to revive its touristic sector and develop energy projects. Yet, the more important issue is Erdogan also wants to use cooperation with Russia to turn against Europe and the USA by demanding money and the extradition of Fethullah Gülen who he wants dead as he sees him as a potential threat to his rule.
Putin naturally sees the renewed relationship with Turkey as an additional positive development in Russia's international strategy and clearly weakens the idea that Moscow is isolated by the sanctions. It makes further sense with Putin for to get allegiance with Turkey against NATO's southern flank is an absolute victory. It may be true that the Syrian crisis remains a dividing point between the two countries, but it may be far less than people suspect. Erdogan does not act like an elected official. This is a personal quest for power.
If the NATO nukes are not removed from Turkey, they will deeply regret what is coming down the road in the years ahead.