Blog/Corruption
Posted Nov 3, 2021 by Martin Armstrong
The National Institute of Health (NIH) has begun quietly covering up Fauci's unspeakable crimes. The White Coat Waste Project, a non-profit watchdog, blew the whistle on a Fauci funded experiment that tortured beagle puppies in the name of science.
"Our investigators show that Fauci's NIH division shipped part of a $375,800 grant to a lab in Tunisia to drug beagles and lock their heads in mesh cages filled with hungry sandflies so that the insects could eat them alive," White Coat Waste Project stated. "They also locked beagles alone in cages in the desert overnight for nine consecutive nights to use them as bait to attract infectious sand flies." Rep. Nancy Mace (R-S.C.) joined with 24 bipartisan lawmakers to demand answers for Fauci's "reprehensible misuse of taxpayer funds."
The National Institutes of Health is no longer listed as a funder for this horrific study. Instead, the following disclaimer has been published that claims the NIH never provided funding to the study in question.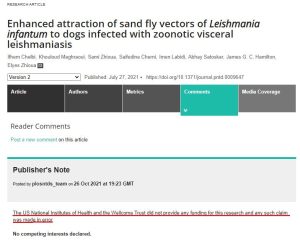 ("Publisher's Note: The US National Institutes of Health and the Wellcome Trust did not provide any funding for this research and any such claim was made in error.")
In addition to lawmakers demanding questions, PETA has joined in on the inquiry. PETA Senior Vice President Kathy Guillermo said, "NIH's denial that Fauci's agency funded the beagle atrocity is a little too convenient. The published study—like the one on the beagle experiments—clearly listed NIH as the funder," her statement added. "Then, as now, NIH called it a mistake. Is rewriting history the new defense against complicity in torture? PETA calls on NIH to release the original, unredacted grant document on the beagle experiments to verify its claim." Sadly, rewriting history is a common practice throughout civilization.
Taxpayers funded this study and deserve to know why the NIH continues to receive government grants to back research that has yet to lead to improvement in human life. Fauci has yet to comment.