Blog/Banking Crisis
Posted Mar 17, 2020 by Martin Armstrong

Following Mondays near 3k point drop in the DOW, today's attention is brought back to the Repo market and the demand for US Dollars is off the charts! In the FX market, there has been significant demand for dollars with aggressive bids seen against the Euro -9, GBP -7 and CHF -10 for T/N (Tomorrow Next). This has also been reflected in the spot market, as people's attention turned back to a month and quarter-end.
The banning of short selling in the Euro government bond market only increases the fear of the unknown. If you can't sell the bonds, you sell what you can and that this morning it has been the currency in Europe. Back in the late 1980's, when the Nikkei had peaked, we saw corporate spreads actually trade through government paper. Interesting that the FED is now providing assistance in the Commercial Paper market, offering support at 3M +200bp. Good quality paper will find bids in dollars, it just takes time. However, when panic selling hits – the time is the one commodity that is never on offer!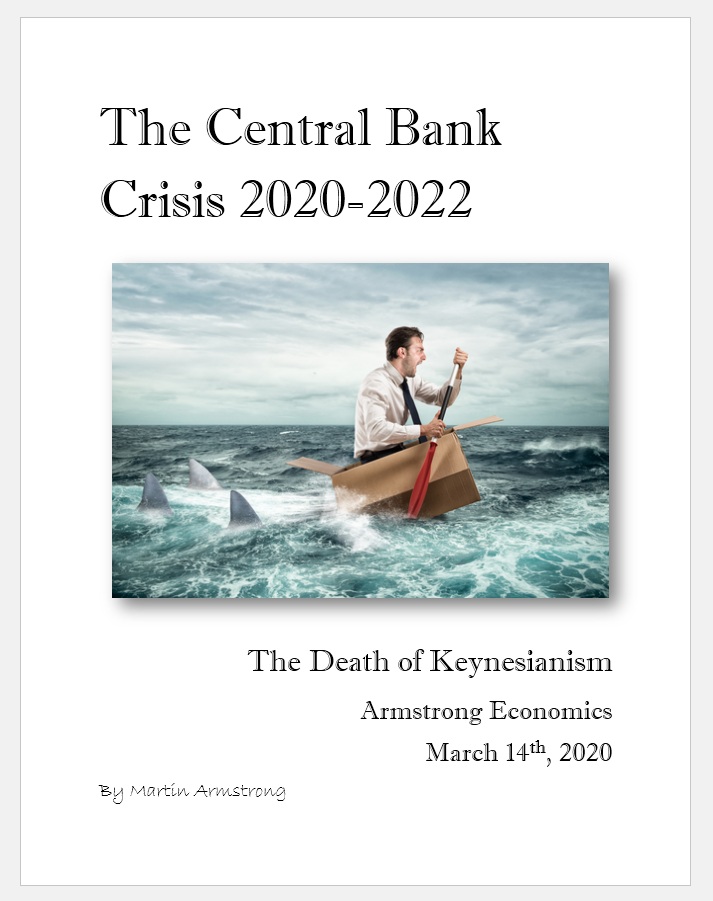 The Fed offering at least $1.5 trillion worth of short-term loans to banks did not save the day. The market still plunged showing the Fed is now powerless as is the case with all central banks. We are facing the collapse of Keynesian Economics where manipulating interest rates no longer works to stimulate the economy.
The government's economic stimulus is set to quickly balloon into a trillion-dollar bailout in the coming days, which will be the largest rescue in modern American history. Instead of banks, this time we are dealing with major industries as they are screaming loudly to the Trump administration and Capitol Hill for aid. Vasts portions of the economy have been undermined by this coronavirus scare which the press has turned into a financial pandemic when the number of deaths are under 8,000 compared to 1 million annually between smoking and the flu. The press has unleashed an unprecedented economic crisis and they really should be haled in to account for what they have done.
In Britain, they are asking those 70 years or older to self-quarantine for 4 months! Borris Johnson's father was on the radio and was asked if he will comply with that and he said no way. He would still go down to the pub.
Because Europe has been in the austerity philosophy and negative interest rates since 2014, there is a panic unfolding for dollars. We see this building from clients making markets even in the Middle East. Right now, the dollar is by no means "trash" but KING! The number of institutions now clamoring for help is skyrocketing. All the Relative Value Desks and Correlation Desks have been blown out of the water in the last week.