Blog/webinars
Posted Sep 18, 2023 by Martin Armstrong
Celebrate 50 Years of Economic Insights: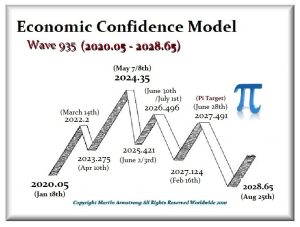 Are you curious about the mysterious rhythms that govern our global economy? Do you want to explore the fascinating world of economic cycles? If so, mark your calendar because we have a special treat for you!
Join Us for the 50th Anniversary of the Economic Confidence Model Webinar
Date: Tuesday, September 19, 2023
Host: Erwin Pletsch
Experience: All levels are welcome
Uncover the Secrets of the Economic Confidence Model
The Economic Confidence Model (ECM) has been at the forefront of economic research for half a century. This year, we proudly celebrate the 50th anniversary of this groundbreaking discovery, and we want you to be a part of the celebration!
Back in the day, Martin Armstrong stumbled upon a list of international economic panics while researching price fluctuations. What started as a curiosity soon turned into a revelation. He uncovered the Cycle of Economic Confidence, a unique model that has been instrumental in predicting economic trends and turning points.
What to Expect
In this special edition of our educational webinar, Erwin Pletsch, with over 30 years of experience following Martin Armstrong's research and using the ECM model, will be your guide. He will delve into the Economic Confidence Model's origins, characteristics, and turning points.
Whether you're a seasoned economist or someone simply intrigued by the cyclical nature of the global economy, this webinar is designed for you. No prior knowledge of the ECM is required; we're here to make complex concepts accessible to everyone.
How to Register
Ready to embark on this enlightening journey into the world of economic cycles? Registration is easy! Simply click the link below to secure your spot for this special 50th-anniversary webinar on the Economic Confidence Model: