Blog/Uncategorized
Posted Jan 9, 2016 by Martin Armstrong

S&P500 Futures
QUESTION:
Hi ! …
In assessing a Sling Shot Move vs Phase Transition, you mentioned that "The key will be decided by the Monthly Bearish Reversals."
As the market is currently selling off into one of a few support zones, wouldn't it be decided by Bullish Reversals? In other words, don't we now want to wait and watch for a Bullish Reversal before we Buy?
Ready for your Trader Service.  🙂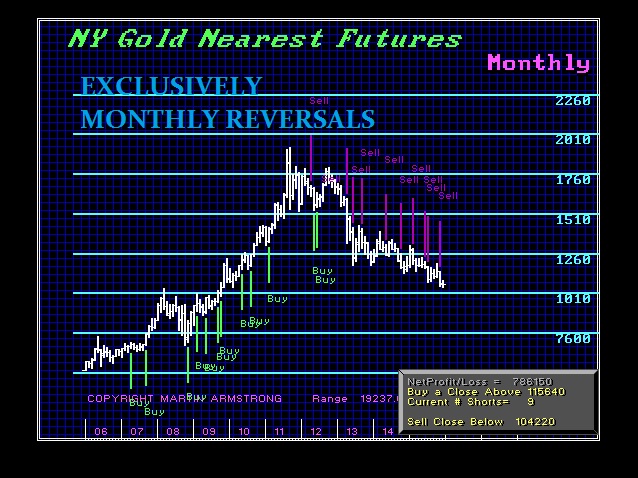 ANSWER: Reversals can be used in two ways. First, as shown above, you can add with each reversal until the trend changes. This illustrates JUST the reversals and only on a one-time level. You can build a position using the broader ones and then exit using the Daily or Weekly.
On the other hand, you can use reversals in the opposite manner for the initial entry. During the 1987 crash, we fell all the way in two days by about 10,000 basis points filling the gap between the reversals. You can buy against that Bearish when it also matches the time. In 1998, I did the same in reverse. I sold the Japanese yen at 147 against the Yearly Bullish, for it too met the time.
If we see a Slingshot
(WHICH IS STILL NOT CONFIRMED)
, then we buy against the Bearish if it meets the time. The same would be true in gold. This is the
INITIAL
entry. Thereafter, you add to the position with each reversal elected.