Blog/Precious Metals
Posted Aug 24, 2018 by Martin Armstrong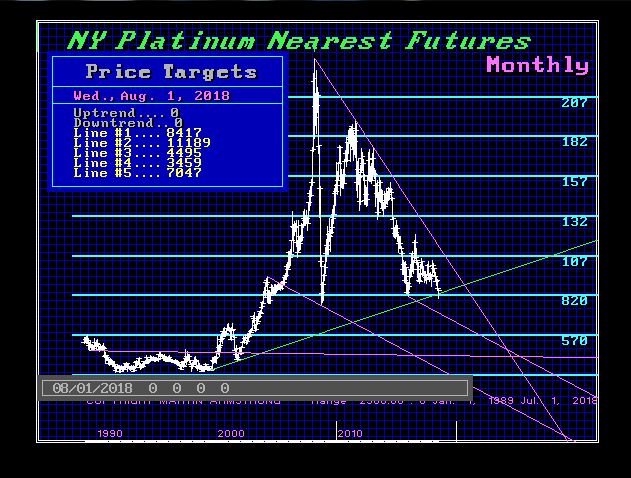 QUESTION: Marty, Socrates has done a fantastic job on platinum. It is just so refreshing to have an analysis that is not biased and always saying buy. It looks like platinum is just a precursor to gold. There is an oversupply and with South Africa in turmoil politically on top of its currency in the EM world, would you care to comment on this market?
Thanks for this system. It really makes a difference.
JS

ANSWER: Platinum prices have really dropped hard reaching 10-year lows as the collapse of Turkey's lira did in fact rippled through emerging market currencies which resulted in the decline of the currency of top producer South Africa. This has indeed underscored the persistent oversupply of the autocatalyst metal. Auto production has been declining for the most part since the 1990s. Moreover, the move toward electric cars in Europe has also resulted in a sharp decline in demand for platinum which has contributed to the oversupply.
Platinum has been caught in a broad sell-off that is clearly an oversupply crisis mixed with investors rushing to the safety of the dollar when there is a serious crisis brewing not just in emerging markets, but also within the EU. As I have warned, the dollar is the ONLY game in town to park BIG MONEY. Those who ran to turkey for the high yield are reaping the losses of their stupidity and greed. The political uncertainty surrounding Turkey has been pushing the dollar higher and making dollar-priced metals more expensive for buyers using other currencies. This is putting pressure to lower the price in dollars to be able to sell the metal.
Meanwhile, with the emissions-reducing catalytic converters for vehicles market is declining along with the jewelry market for platinum, which has also been declining due to deflation in Europe and a preference for gold. Despite the lower prices, global platinum jewelry demand declined 12% to 2.18 million ounces in 2017. According to GFMS industry reporting: