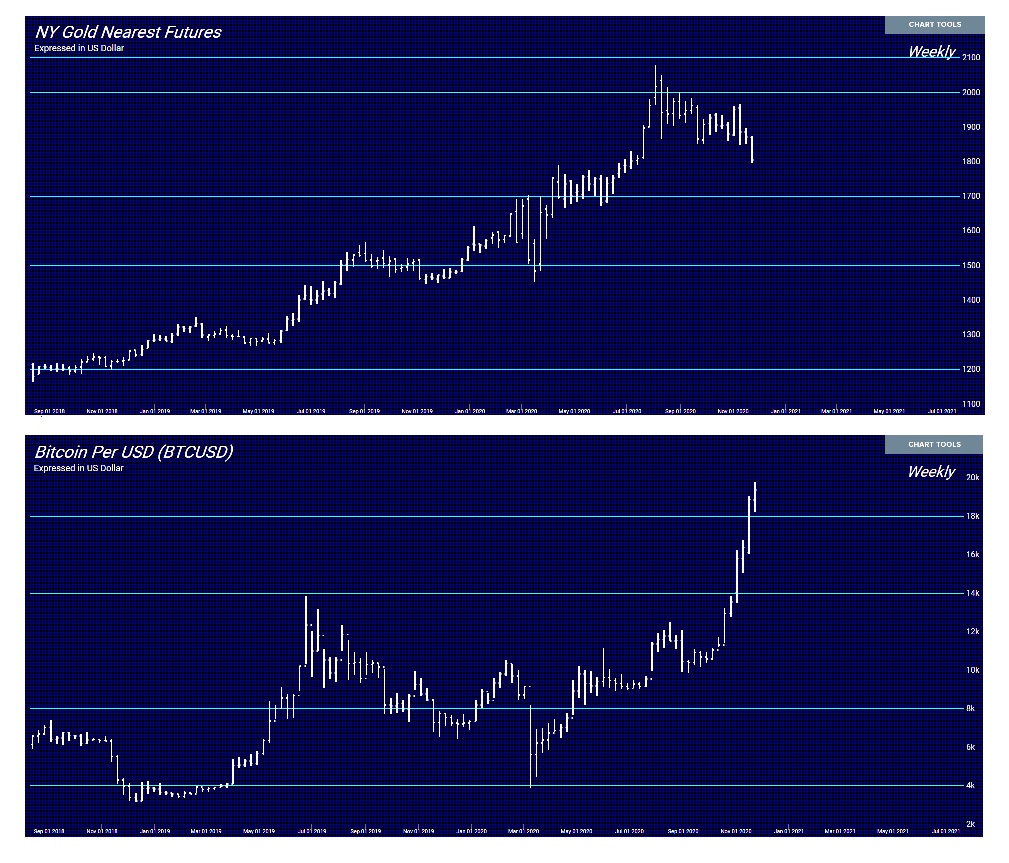 COMMENT: I admit I have been a gold bug and I bought into Bitcoin. I have been following Socrates since you began forecasting Bitcoin. I want to say that it has convinced me that these fundamental forecasts are just like fake news. When Socrates said gold would decline and then Bitcoin would rise, that made no sense but it was right.  All they talk about is how hyperinflation will take place when the dollar loses its reserve status. Socrates is a real gift to us all. I think it is time to take it public to fight these Silicon Valley terrorists trying to change our future.
FK
ANSWER: Socrates just calls the shots as they unfold without bias or predetermined philosophy. I think what you have noticed between gold and bitcoin is interesting. Buffett sold his bank shares and first moved to gold shares. Warren Buffett's Berkshire Hathaway bought a stake in Barrick Gold in the second quarter. The total stake in Barrick Gold was worth about $564 million. Then Buffett sold 9 million shares of ABX trimming the position 44% from Q2. Buffett also sold off Wells Fargo (WFC), JPMorgan Chase (JPM), PNC Financial Services, and M&T Bank, according to reporting by Yahoo Finance. The company also dropped its entire position in Costco.
Buffett, along with Bloomberg, is one of ABC News' the "Super Rich Friends" and forget about his buying into gold and then selling it out. More importantly, he has been liquidating the bank stocks. This is what I have been warning that BigTech is moving in to replace banks. Don't forget that Gates resigned from Berkshire to try to hide his influence from investment decisions behind Buffett. It has been Bill Gates calling for 10 more weeks of back in April lockdown! Bill Gates resigned both from Microsoft and Warren Buffet's boards. It has been Bill Gates pushing to eliminate paper money and move digitally.
This is a coordinated effort with the World Economic Forum taking the visible lead. This is how all MANIPULATIONS take place. One person is upfront and gets all the press like Soros and the British pound. But there is a group with all the same positions. When the Long-Term Capital Management Crisis hit in 1998, it turned into a global liquidity crisis BECAUSE they all had the same position – Russian bonds. This is Klaus Schwab up front but all of BigTech is right behind him. Schwab has been cultivating heads of states to sell his Stakeholder Economics. He is an elitist and destroying the world economy to rebuild it from scratch in his mind is perfectly fine just hand out a guaranteed basic income as they are doing in the UK and in Canada to stay home.