Posted Jun 30, 2022 by Martin Armstrong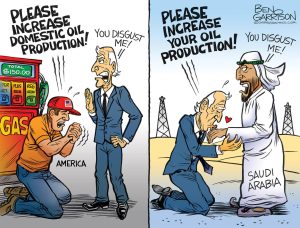 French President Emmanuel Macron pulled US President Joe Biden aside at the G7 summit to explain a few basic facts. Biden has been demanding Middle Eastern nations ramp up their oil and gas production to help offset the energy crisis his administration has created. It's ok to drill and take from the environment as long as it is not on US soil.
A reporter recorded Macron explaining to Biden that the United Arab Emirates is already at maximum capacity and cannot produce more oil. He also told him that begging the Saudis for oil was a lost cause too. These were the only two OPEC nations left that the US thought it could tap into for more oil.
Journalist Michael Shellenberger tweeted part of the exchange between the US and French leaders: "I had a call with MBZ," Macron said. (MBZ is the leader of the United Arab Emirates, Sheikh Mohammed bin Zayed al-Nahyan.) "He told me two things. I'm at a maximum [production capacity] and [the] Saudis can increase by 150 [thousands barrels per day]."
Reporters were visibly in earshot when Macron spoke to Biden, which seems like a strategic move. It is a not-so-subtle effort to explain to the US, as the world is watching, that they have the power to ramp up production on its own without grappling for help from other nations.