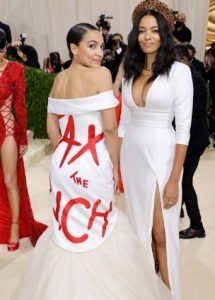 Politicians will always vote in favor of their self-interests. The invisible hand is fully visible here. The Supreme Court reminded Biden that he could not bribe voters with taxpayers' funds to cancel student debt. The enormously unpopular president needs all the bargaining chips he can get and continues fighting for student loan forgiveness. Democrats in recent history (see: Glass Steagall) could not care less about the students and handed them to the bankers on a silver platter with loans that could not be discharged in bankruptcy. As it turns out, numerous Democrats supporting this measure are seeking to have their own student loan debt discharged.
These politicians earn nearly $200,000 annually on salary alone and work a handful of days out of the year. They are unable to accomplish anything and leech onto the political system for as long as they can. At least 14 Democrats hold $1.7 million in combined student loans and none of them believe they should pay it back. Ninety Democrats recently penned a letter to Joe Biden asking him to cancel student debt by "early 2024," meaning prior to the election. The far-left "Squad" members hold $200,000 in student loan debt, with AOC accumulating $50,000 in debt alone. Interestingly, she paraded around the Met Gala in a dress promoting socialism; tickets to that event were $50,000 per person.
According to the Washington Examiner, these are some of the politicians who will benefit:
"That includes Ocasio-Cortez, Tlaib, Omar, Bowman, Reps. Grace Meng (D-NY), Jimmy Gomez (D-CA), Nanette Barragán (D-CA), Brendan Boyle (D-PA), Veronica Escobar (D-TX), Nikema Williams (D-GA), Salud Carbajal (D-CA), Jasmine Crockett (D-TX), and Greg Casar (D-TX). Separately, Rep. Jahana Hayes (D-CT) disclosed up to $250,000 in loans through the Education Department and didn't sign the document."
The penned letter to Biden highlights the impact that student debt has on Black and Latino families since they love to divide us by race. They are urging him to keep his promise of canceling up to $20,000 in debt for as many as 43 million Americans. Student loans have been postponed under the Fiscal Responsibility Act of 2023 due to COVID and will resume on September 1, 2023.
Everyone has had time to get their affairs in order. Those who blindly believed that Joe could make up to $1.6 trillion vanish in thin air need to go back to school. These socialistic policies force others to pay for services they did not receive. What about the people who chose not to attend school for financial reasons? Those who dropped out? Now they are expected to pay for others who actively made the decision to take on debt.