Posted Oct 25, 2022 by Martin Armstrong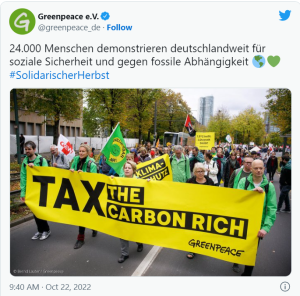 Protests over the rising cost of energy are popping up throughout the West. Over the weekend, thousands of Germans from six different cities took to the streets to express their dismay. This particular day of protests was organized by the trade union ver.di and Greenpeace, and their ideas for lowering costs differ.
The trouble is that Greenpeace is protesting for lower energy costs by ending the global dependence on fossil fuels. Those who are protesting to lower energy taxation and costs must realize that this can only be done by using the resources that are currently available. There is no alternative to fossil fuel at this time that can be used on a grand scale to power the planet. Perhaps a great mind will find the means for the creative destruction of fossil fuels. Until then, wind, solar, and even nuclear power are not quick fixes.
Over 2,700 people in Frankfurt, 2,300 people in Dusseldorf, 1,800 in Berlin, and 1,500 in Hanover took to the streets, although Greenpeace originally estimated the turnout to be 24,000. Unrest will grow as the winter approaches and prices rise. It is important for protests to have a clear message. We can lower costs, but we can't eliminate our dependence on gas at this time.
Chancellor Olaf Scholz, Economy Minister Robert Habeck, and Finance Minister Christian Lindner revealed a plan in September worth up to 200 billion euros to help businesses and households, but it is not enough to combat inflation mixed with the rapid decline in supply. Lindner has stated that Germany is in an "energy war" with Russia.
What they do not realize is that this was a kamikaze mission as far as energy is concerned. No nation cared about Ukraine prior to February 2022. Ukraine was not allowed to join the euro or NATO. Plans to punish Russia have backfired, and now the people will suffer due to mindless politicians who want to enter a grand-scale war for reasons unknown.