Posted Apr 6, 2022 by Martin Armstrong
On April 10, the election in France will take place, and Macron is ahead for now with 27% of the vote. But Macron has been using his position as the European Union bloc's president for six months. Macron has cleverly used this position as a powerbase toward a reelection bid by not merely pushing for a strong EU government, and surrendering French sovereignty to Brussels, but he has been using the Ukrainian crisis to justify his return to power.
Macron's remarks have been closely watched at home as he is strategically using his EU position to win reelection. Macron has stated that he wants to add changes to the charter of fundamental rights of the European Union to make it "more explicit about environment protection and the recognition of the right to abortion" in an effort to "breathe new life" in Europe's democratic values. He is also pitching a minimum wage or a "decent" minimum salary across the EU bloc and moving on reducing "inequalities" by fighting discrimination, which is the pitch of the World Economic Forum as to WHY a Great Reset is needed.
Macron has also said it's time for the EU to "take action" to meet its environmental ambitions, including the bloc's commitment to reach climate neutrality by 2050. That too is from the World Economic Forum agenda.
Macron also called on the EU to quickly draw up a new security plan to ease tensions with Russia. Many have seen Macron as using his position not to promote EU policies, but to boost his candidacy rather than caring about EU issues. Most of the opposition has pointed out his failure with dealing with the massive migration into Europe. He had 5 years to deal with that and has done nothing.
For now, Macron is basking in the limelight of Zelensky and the threat of Putin to Europe. But our model shows that this will be the last president to be elected in the Fifth Republic of France. Jacques Chirac (1932–2019) was elected in 1995 initially as a Gaullist, but he turned Neo-Gaullist, and thus the slippery slope of France began. We will see a new government emerge by 2030. The risk of a European war will be at its peak in 2027. There will be NO return to normal!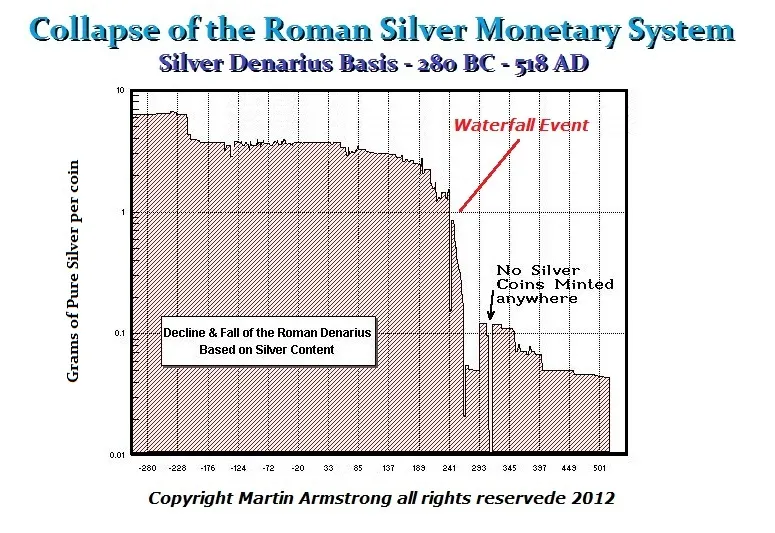 Remember, Rome lasted for 1,000 years, but it collapsed in just 8.6 years.