Blog/European Union
Posted May 22, 2019 by Martin Armstrong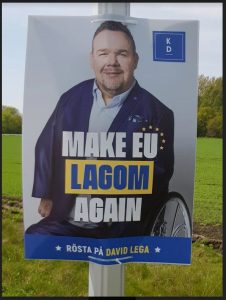 QUESTION: Hi Martin,
The Rome WEC was a real eye-opener for me. Thank you for coming over to Europe. Especially the reports you released in advance of the conference. "The Fate Of Europe" pdf was especially informative. You're explaining the structural defects of the EU make it clear it really is a doomed project, and just a matter of time before it, helped along by the ECB, descends into chaos.
Upon arriving home in Sweden I noticed this poster for a Swedish MEP candidate.
"Lagom" is the Swedish notion of the middle way. Not too much, not too little. Basically, blending in and being inoffensive. On the one hand, it's cute, on the other hand, it's sad. He's clearly passionate about his political philosophy, but even if elected, there is Juncker, Tusk, and Verhofstadt waiting in Brussels to dictate to him what he has to do, and the structural flaws of the EU that make it all moot anyway.
Rome had this quality of crumbling neglect about it, like nothing had been repaired in 20 years. Unlike Sweden, that dutifully reinvests a lot of the tax revenue it collects back in infrastructure, Rome appeared starved of money and dying.
What does the computer say about civil unrest and war in Europe? I have the gnawing feeling it's coming.
BIK
P.S. Thank you for Socrates and your life's work.
ANSWER: Oh yes. I am familiar with Lagom. My interpretation would be "just the right amount," so he is a skeptic partially. Unfortunately, the tension should begin to become more pronounced starting in 2020 going into 2022. I am not sure it would be a war, but certainly a rising trend toward independence.