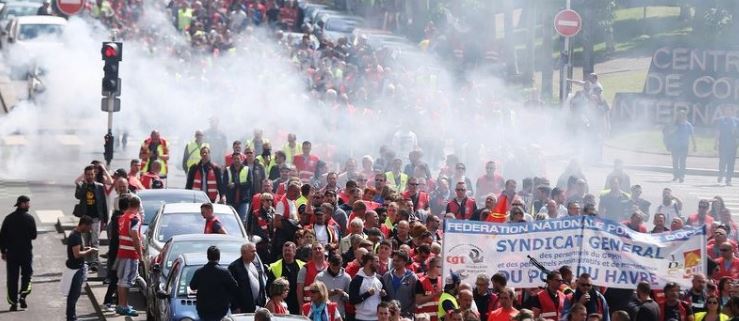 COMMENT #1: 
The current protests are not "The People against the State" and therefore it is not a revolution. It is the Left (CGT union and alike) against the Left (Presidency); it is a family affair like currently between Amber Heard and Johnny Depp.
When these people rioted in my street, the REAL PEOPLE on their balcony INSULTED them. How could the real people walk in the streets with these bastards to make a revolution? They gather 2-3% of the votes in elections ! They ravaged everything for 20 minutes including a bank. We called the police who's station is just 100 meters always and they didn't show up until 20 minutes after their departure ! The police is not using water cannons and they are releasing within hours those who burn police cars and injure policemen.
The real risk is when the REAL PEOPLE clash with the PROTESTERS. That would bring an interim military cabinet who would delay the 2017 election. There is already General Didier Tauzin who announced he is running for President.
REPLY: They are calling this the second French Revolution, but you are correct, it is not the people so much as the left unions. We have the same problem in the States with government workers against the people.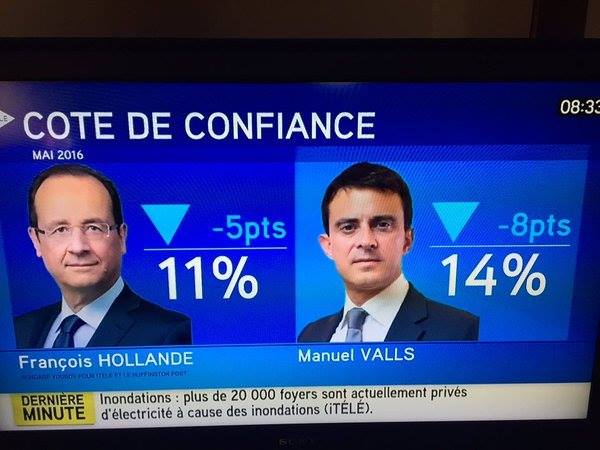 COMMENT #2: 
A single image that would suffice to understand the situation in France : Hollande is at a historical low approval rate, 11%.
The common reaction is : "How come he enjoys so much support ?".
Honestly, I think Hollande does not get it. He likes to show how satisfied and proud of his achievements he is, which people see as a permanent provocation. He's as clueless as you can get.
On the other hand, Manuel Valls is an arrogant, angry and brutal prime minister who often uses a martial rhetoric to silence anyone who questions his judgment. The man is known for having some serious mental problems. Be sure that if this man could, he would turn France into a dictatorship overnight.
Hopefully, Hollande is weak and unable to make decisions. He's known to be a pathological liar, including in his private life. Being a natural born coward makes it impossible for him to take any responsability, even the smallest. When a problem occurs, he usually run away after having scapegoated someone else for the mistake.
Regards.
COMMENT #3:
Some news from France where the global atmosphear is looking like a complete moral and political meltdown.
The french president François Hollande, his ministers, especially the head of the Ministry of the Economy Emmanuel Macron, can't travel in France. Ministers have been ordered to reduced their trip to a "strict minimum". The bill to reform the job market regulations is at the epicenter of the broader french society existential crisis.
Here is a link for the record related to the great difficulty the government experience to move within France :
I discuss extensively with thousands of French from various background and regions. I think the anger is at an all time high. It's pure hatred for the government, politicians and, because the leading one, Hollande and his prime minister Valls. People are more and more convinced that France is becoming a "socialist dictatorship".
Thanks to police forces, Hollande is still alive, but if it were not for the cops, the crowd would already be sitting in the Elysée Palace.
I talked with a a person from Belgium leaving in Romania with high levels connexions in Brussels. They're terrified about 2017 for they know Alain Juppé (former Chirac Prime minister, crooked as possible) or Sarkozy won't be able to lead France for it is more of the same and people are all too aware of it.
I remember you told me that your computers do not see Sarkozy winning. I don't see Hollande winning. And i don't think Le Pen can win. It looks like a dead end at this stage.
Regards.
REPLY: This is not just a French revolution, it is a worldwide revolution. We are seeing it in America, Britain, Spain, Germany, Italy, and Greece. Everyone has simply had enough of politics as usual. The elite around the world are in a complete state of denial.