Posted Jan 3, 2022 by Martin Armstrong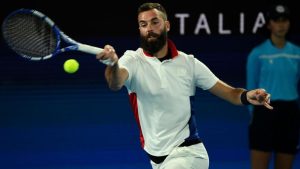 (Photo by Paul CROCK / AFP)
The sports industry has long suffered at the hands of pandemic restrictions amid stadium closures, quarantines, and formerly healthy athletes dying after taking the vaccine. Despite numerous leagues throughout the world being fully vaccinated, cases of new athletes contracting COVID appear in the news daily. Tennis star Benoit Paire took to Instagram to announce he tested positive for COVID "for the 250th time." While that may be hyperbolic, his sentiments resonate with many.
"Honestly I can't deal with this Covid s*** anymore. How am I doing? Because of Covid I got a runny nose, but because of all these quarantines spent in a hotel room halfway across the world, I don't feel good mentally… Last year was tough, and this year starts exactly the same way!!" As many can relate, the psychological effects of COVID restrictions have wreacked more havoc than the actual virus.
"Just one thing, I'm 100% for the vaccine, but let's just live as before Covid, otherwise I don't see the point," Paire added. Perfect summarization – what's the point? What is the point of forcing the world to adhere to mRNA vaccines, mask mandates, lockdowns, quarantines, travel bans, mass unemployment, and more if there is NO PLAN TO RETURN TO NORMAL? Make it make sense.