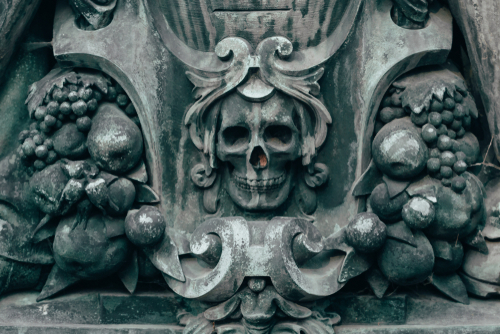 COMMENT: We keep hearing in the mainstream media about the rise in covid-19. John Hopkins reports every day on confirmed cases and death cases globally. I record this data every day. The United States is at the forefront, so it seems. with a significant rise in confirmed and deaths as media reports. Why is it the death rate continues to drop in percentage since May 16, 2020, even though the death rate should actually be rising in percentage?
FEL
REPLY: This is clearly a political contrived disease. There are more people who die in car accidents and far more who are permanently disfigured. The media involved in this reporting are committing treason for they are deliberately assisting a foreign entity to try to take over the United States with the Great Reset. NMapoleon could have said the same thing. I am conquering the world to prevent war and to further the economic expansion (after destroying everything). Never have I witness so many people eager to surrender their lives and the future of their own children that is if Bill Gates allows them to have children.
Before, the people who were being tested were those with real symptoms. Now, they test everyone so the number rise, but the deaths decline. As I said, not only is John Hopkins not trustworthy taking money even from Bloomberg, $1.8 billion to be exact but Bloomberg was also at that secret meeting with Gates in 2009 to reduce the world population.
Sources in Switzerland state that doctors are paid 5,000 CH for every death certificate that says it was COVID.  The health minister, Alain Berset, is a leftist politician who appears to be supporting Schwab. We are trying to confirm this is true. We have not yet seen and confirming document only words from those in healthcare.
---
Date Confirmed Deaths Percent
2/26/2020
2/27/2020
2/28/2020
2/29/2020
3/1/2020 72 2 2.7000%
3/2/2020 102 6 5.8824%
3/3/2020 129 9 6.9767%
3/4/2020 159 11 6.9182%
3/5/2020 228 14 6.1404%
3/6/2020 332 17 5.1205%
3/7/2020 444 19 4.2793%
3/8/2020 564 21 3.7234%
3/9/2020 717 26 3.6262%
3/10/2020 1000 31 3.1000%
3/11/2020 1272 38 2.9874%
3/12/2020 1645 41 2.4924%
3/13/2020 2204 49 2.2232%
3/14/2020 2816 60 2.1307%
3/15/2020 3485 65 1.8651%
3/16/2020 4459 87 1.9511%
3/17/2020 6135 112 1.8256%
3/18/2020 8736 149 1.7056%
3/19/2020 13,133 195 1.4848%
3/20/2020 18,763 258 1.3750%
3/21/2020 23,649 302 1.2770%
3/22/2020 34,000 413 1.2147%
3/23/2020 43,600 550 1.2615%
3/24/2020 52,976 704 1.3289%
3/25/2020 65,201 928 1.4233%
3/26/2020 82,404 1100 1.3349%
3/27/2020 101,657 1558 1.5326%
3/28/2020 103,321 1668 1.6144%
3/29/2020 139,675 2436 2.7778%
3/30/2020 159,184 2945 1.8501%
3/31/2020 184,183 3721 2.0203%
4/1/2020 216,722 4081 1.8831%
4/2/2020 226,374 5316 2.3483%
4/3/2020 245,573 6058 2.4669%
4/4/2020 308,533 8376 2.7148%
4/5/2020 312,445 8503 2.7214%
4/6/2020 356,942 10,524 2.9484%
4/7/2020 399,929 12911 3.2283%
4/8/2020 429,052 14,695 3.4250%
4/9/2020 432,438 14808 3.4243%
4/10/2020 491,358 18,316 3.7276%
4/11/2020 527,111 20506 3.8903%
4/12/2020 530,006 20,608 3.8883%
4/13/2020 557,590 22109 3.9651%
4/14/2020 582,594 23,649 4.0593%
4/15/2020 609,685 26059 4.2742%
4/16/2020 639,634 30,985 4.8442%
4/17/2020 671,425 33286 4.9575%
4/18/2020 706,779 37,079 5.2462%
4/19/2020 735,366 39,096 5.3165%
4/20/2020 759,786 40,683 5.3545%
4/21/2020 781,960 42,364 5.4177%
4/22/2020 825,306 45,134 5.4688%
4/23/2020 842,624 46,785 5.5523%
4/24/2020 869,172 49,963 5.7483%
4/25/2020 905,333 51,949 5.7381%
4/26/2020 939,249 53,934 5.7422%
4/27/2020 965,933 54,877 5.6812%
4/28/2020 988,469 56,523 5.7182%
4/29/2020 1,012,583 58,355 5.7630%
4/30/2020 1,040,438 60,999 5.8628%
5/1/2020 1,070,032 63,019 5.8895%
5/2/2020 1,104,161 65,068 5.8930%
5/3/2020 1,133,069 66,385 5.8589%
5/4/2020 1,158,341 67,686 5.8434%
5/5/2020 1,180,634 68,934 5.8387%
5/6/2020 1,204,475 71,078 5.9012%
5/7/2020 1,228,609 73,431 5.9768%
5/8/2020 1,252,743 75,670 6.0403%
5/9/2020 1,276,877 77,909 6.1015%
5/10/2020 1,309,541 78,794 6.0169%
5/11/2020 1,329,799 79,528 5.9805%
5/12/2020 1,347,936 80,684 5.9857%
5/13/2020 1,369,984 82,387 6.0137%
5/14/2020 1,392,032 84,090 6.0408%
5/15/2020 1,417,889 85,906 6.0587%
5/16/2020 1,443,397 87,568 6.0668%
5/17/2020 1,467,884 88,754 6.0464%
5/18/2020 1,486,742 89,564 6.0242%
5/19/2020 1,508,957 90,369 5.9888%
5/20/2020 1,528,661 91,938 6.0143%
5/21/2020 1,551,853 93,439 6.0211%
5/22/2020 1,577,758 94,729 6.0040%
5/23/2020 1,602,148 96,013 5.9928%
5/24/2020 1,622,670 97,087 5.9832%
5/25/2020 1,643,499 97,722 5.9460%
5/26/2020 1,662,768 98,223 5.9072%
5/27/2020 1,681,418 98,929 5.8837%
5/28/2020 1,699,933 100,442 5.9086%
5/29/2020 1,721,926 101,621 5.9016%
5/30/2020 1,747,087 102,836 5.8861%
5/31/2020 1,770,384 103,781 5.8621%
6/1/2020 1,790,191 104,383 5.8308%
6/2/2020 1,811,277 105,147 5.8051%
6/3/2020 1,832,821 106,181 5.7933%
6/4/2020 1,851,420 107,215 5.7910%
6/5/2020 1,870,019 108,211 5.7866%
6/6/2020 1,888,618 109,283 5.7864%
6/7/2020 1,920,552 109,802 5.7172%
6/8/2020 1,942,363 110,514 5.6897%
6/9/2020 1,973,803 111,751 5.6617%
6/10/2020 1,979,893 112,006 5.6572%
6/11/2020 2,000,464 112,924 5.6449%
6/12/2020 2,023,347 113,820 5.6253%
6/13/2020 2,048,986 114,669 5.5964%
6/14/2020 2,074,749 115,436 5.5639%
6/15/2020 2,094,069 115,732 5.5267%
6/16/2020 2,114,026 116,127 5.4932%
6/17/2020 2,137,731 116,963 5.4714%
6/18/2020 2,163,290 117,717 5.4416%
6/19/2020 2,186,995 118,511 5.4189%
6/20/2020 2,222,576 119,131 5.3600%
6/21/2020 2,255,119 119,719 5.3088%
6/22/2020 2,280,969 119,977 5.2599%
6/23/2020 2,312,302 120,402 5.2070%
6/24/2020 2,347,102 121,225 5.1649%
6/25/2020 2,381,369 121,979 5.1222%
6/26/2020 2,422,312 124,415 5.1362%
6/27/2020 2,467,837 125,039 5.0667%
6/28/2020 2,510,323 125,539 5.0009%
6/29/2020 2,549,069 125,803 4.9353%
6/30/2020 2,590,582 126,141 4.8692%
7/1/2020 2,636,538 127,425 4.8330%
7/2/2020 2,686,587 128,062 4.7667%
7/3/2020 2,739,879 128,740 4.6987%
7/4/2020 2,795,163 129,437 4.6307%
7/5/2020 2,839,917 129,676 4.5662%
7/6/2020 2,888,729 129,947 4.4984%
7/7/2020 2,938,625 130,306 4.4343%
7/8/2020 2,996,098 131,480 4.3884%
7/9/2020 3,055,144 132,309 4.3307%
7/10/2020 3,118,143 133,291 4.2747%
7/11/2020 3,184,722 134,097 4.2106%
7/12/2020 3,304,942 135,205 4.0910%
7/13/2020 3,364,547 135,615 4.0307%
7/14/2020 3,431,574 136,466 3.9768%
7/15/2020 3,499,398 137,419 3.9269%
7/16/2020 3,576,430 138,360 3.8687%
7/17/2020 3,647,715 139,266 3.8179%
7/18/2020 3,760,327 140,466 3.7355%
7/19/2020 3,773,260 140,534 3.7245%
7/20/2020 3,786,193 140,602 3.7135%
7/21/2020 3,830,926 140,909 3.6782%
7/22/2020 3,902,333 142,073 3.6407%
7/23/2020 3,971,343 143,190 3.6056%
7/24/2020 4,109,016 145,421 3.5391%
7/25/2020 4,112,651 145,656 3.5417%
7/26/2020 4,178,730 146,463 3.5050%
7/27/2020 4,234,140 146,935 3.4702%
7/28/2020 4,294,770 148,056 3.4474%
7/29/2020 4,352,084 149,258 3.4296%
7/30/2020 4,426,982 150,713 3.4044%
7/31/2020 4,495,015 152,070 3.3831%
8/1/2020 4,562,170 153,314 3.3605%
8/2/2020 4,667,957 154,860 3.3175%
8/3/2020 4,717,716 155,471 3.2955%
8/4/2020 4,771,519 156,830 3.2868%
8/5/2020 4,824,175 158,268 3.2807%
8/6/2020 4,883,657 160,104 3.2784%
8/7/2020 4,942,008 161,358 3.2650%
8/8/2020 4,998,105 162,425 3.2497%
8/9/2020 5,045,564 162,938 3.2293%
8/10/2020 5,093,023 163,351 3.2073%
8/11/2020 5,094,565 163,465 3.2086%
8/12/2020 5,197,377 166,027 3.1944%
8/13/2020 5,254,171 167,242 3.1830%
8/14/2020 5,313,454 168,446 3.1702%
8/15/2020 5,371,805 169,988 3.1644%
8/16/2020 5,361,302 169,483 3.1612%
8/17/2020 5,404,115 170,052 3.1467%
8/18/2020 5,443,162 170,548 3.1333%
8/19/2020 5,482,602 171,823 3.1340%
8/20/2020 5,529,933 173,181 3.1317%
8/21/2020 5,575,386 174,283 3.1259%
8/22/2020 5,623,990 175,409 3.1189%
8/23/2020 5,668,245 176,362 3.1114%
8/24/2020 5,703,725 176,809 3.0999%
8/25/2020 5,740,909 177,279 3.0880%
8/26/2020 5,779,372 178,525 3.0890%
8/27/2020 5,834,064 180,787 3.0988%
8/28/2020 5,869,692 180,857 3.0812%
8/29/2020 5,917,817 181,775 3.0717%
8/30/2020 5,961,884 182,785 3.0659%
8/31/2020 5,997,163 183,068 3.0526%
9/1/2020 6,031,065 183,061 3.0353%
9/2/2020 6,075,652 184,697 3.0400%
9/3/2020 6,115,030 185,752 3.0376%
9/4/2020 6,150,999 186,798 3.0369%
9/5/2020 6,202,080 187,768 3.0275%
9/6/2020 6,246,203 188,553 3.0187%
9/7/2020 6,277,004 188,941 3.0101%
9/8/2020 6,301,320 189,215 3.0028%
9/9/2020 6,328,051 189,680 2.9974%
9/10/2020 6,362,440 190,872 3.0000%
9/11/2020 6,397,244 191,791 2.9980%
9/12/2020 6,432,048 192,510 2.9930%
9/13/2020 6,486,401 193,705 2.9863%
9/14/2020 6,520,234 194,081 2.9766%
9/15/2020 6,554,821 194,536 2.9678%
9/16/2020 6,606,562 195,942 2.9659%
9/17/2020 6,631,568 196,831 2.9681%
9/18/2020 6,675,564 197,643 2.9607%
9/19/2020 6,727,889 198,612 2.9521%
9/20/2020 6,765,786 199,265 2.9452%
9/21/2020 6,811,694 199,512 2.9290%
9/22/2020 6,857,967 199,884 2.9146%
9/23/2020 6,921,817 201,459 2.9105%
9/24/2020 6,934,233 201,910 2.9118%
9/25/2020 6,978,874 202,819 2.9062%
9/26/2020 7,034,432 203,789 2.8970%
9/27/2020 7,078,798 204,497 2.8889%
9/28/2020 7,115,338 204,758 2.8777%
9/29/2020 7,149,072 205,082 2.8687%
9/30/2020 7,191,062 205,998 2.8646%
10/1/2020 7,233,946 206,959 2.8609%
10/2/2020 7,279,065 207,816 2.8550%
10/3/2020 7,333,426 208,723 2.8462%
10/4/2020 7,383,244 209,399 2.8361%
10/5/2020 7,418,107 209,725 2.8272%
10/6/2020 7,458,549 210,195 2.8182%
10/7/2020 7,501,869 210,918 2.8115%
10/8/2020 7,607,249 212,784 2.7971%
10/9/2020 7,632,101 213,098 2.7921%
10/10/2020 7,664,675 213,787 2.7893%
10/11/2020 7,718,947 214,377 2.7773%
10/12/2020 7,762,807 214,771 2.7667%
10/13/2020 7,804,337 215,086 2.7560%
10/14/2020 7,865,359 215,914 2.7451%
10/15/2020 7,985,875 217,717 2.7263%
10/16/2020 8,049,485 216,814 2.6935%
10/17/2020 8,052,978 218,618 2.7147%
10/18/2020 8,106,753 219,289 2.7050%
10/19/2020 8,154,936 219,674 2.6938%
10/20/2020 8,214,754 220,133 2.6797%
10/21/2020 8,274,878 221,078 2.6717%
10/22/2020 8,338,179 222,211 2.6650%
10/23/2020 8,409,312 223,051 2.6524%
10/24/2020 8,493,747 223,995 2.6372%
10/25/2020 8,576,838 224,839 2.6215%
10/26/2020 8,636,169 225,230 2.6080%
10/27/2020 8,704,606 225,735 2.5933%
10/28/2020 8,779,794 226,728 2.5824%
10/29/2020 8,858,088 227,700 2.5705%
10/30/2020 8,946,691 228,668 2.5559%
10/31/2020 9,047,637 229,708 2.5389%
11/1/2020 9,127,109 230,566 2.5262%
11/2/2020 9,207,364 230,996 2.5088%
11/3/2020 9,293,310 231,566 2.4917%
11/4/2020 9,385,143 232,634 2.4787%
11/5/2020 9,487,467 233,729 2.4636%
11/6/2020 9,609,862 234,937 2.4447%
11/7/2020 9,739,897 236,099 2.4240%
11/8/2020 9,861,898 237,123 2.4044%
11/9/2020 9,972,333 237,584 2.3824%
11/10/2020 10,110,552 238,251 2.3565%
11/11/2020 10,257,825 239,683 2.3366%
11/12/2020 10,402,273 241,808 2.3246%
11/13/2020 10,555,469 242,435 2.2968%
11/14/2020 10,744,869 244,357 2.2742%
11/15/2020 10,905,598 245,600 2.2521%
11/16/2020 11,038,312 246,224 2.2306%
11/17/2020 11,206,054 247,229 2.2062%
11/18/2020 11,360,125 248,707 2.1893%
11/19/2020 11,529,818 250,548 2.1730%
11/20/2020 11,720,514 252,564 2.1549%
11/21/2020 11,915,769 254,445 2.1354%
11/22/2020 12,090,466 255,905 2.1166%