Posted Feb 4, 2022 by Martin Armstrong
Hosting the Olympics is not cheap, but it's a privilege most countries vie after for prestige. The 2022 Winter Olympics is estimated to cost China around $4 billion, but the publicity is worth more. China recently spent $9 billion to build a high-speed rail that will link the mountainous ski resorts to Beijing. They plan to build upon their tourism and leisure sector while changing their image from that of a hostile nation.
China is in a unique position as it has been rather costly for countries to host the games, and the prestige did not lead to profits. Both Oslo, Norway, and Stockholm, Sweden backed out of their bid to host the 2022 Winter Olympics due to costs. Finalists Budapest, Hungary, Hamburg, Germany, and Rome, Italy withdrew their 2024 bids, leaving Paris, France with the opportunity to host.
The 2022 Winter Games mark the second time an Olympics will go sans spectators. The games may not draw tourism now, but the hope is that it will down the line. Governments either need to prepare to go into debt to host the games or hope that the ROI is realized in the long term. Who knew (not rhetorical) that the world would go into a pandemic in 2020. Tokyo certainly didn't after spending a record $15 billion on the 2020 Summer Games, although some estimates state the cost was closer to $28 billion.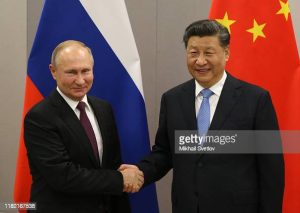 Beijing's 2008 Summer Games appearance showed the world it was a big player, but its 2022 appearance will solidify China's place as a dominant global power. Called "the most powerful leader since Mao Zedong" by the New York Times, Xi Jinping is ready to put on a show. Xi stated the games "will not only enhance our confidence in realizing the great rejuvenation of the Chinese nation." Xi hopes to "show a good image of [China] and demonstrate our nation's commitment to building a community with a shared future for mankind."
Numerous world leaders and diplomats have stated that they plan to boycott the 2022 Beijing games over human rights abuses to the Uyghur Muslim population. China declared it was profoundly offended by the boycott, but they will have other guests in attendance. President Xi will host Russian leader Vladimir Putin on the first day of the games as tensions build on the Russian-Ukrainian border. Russia and China have an alliance, and Xi is willing to spend billions to show the world that China has not been ostracized from the world stage.