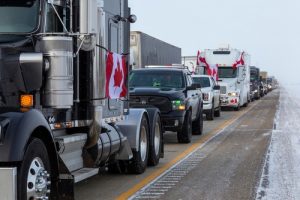 Trudeau changed the world's entire perception of Canada after his mishandling of the Freedom Convoy protest. Hard-working Canadian men and women demanded medical freedom and protested the vaccine mandates. The Canadian media was not permitted to question the COVID agenda, and dissenting voices were muffled. The Canadian trucker's convoy (aka the Freedom Convoy) sparked the first major backlash for the Trudeau Administration after protestors could not be silenced by threats. Trudeau had to make good on those threats to assert whatever is left of his authority. Justin Trudeau is back to being a celebrity, not a politician, and is focusing on winning a drag queen race this week.
The convoy was completely peaceful until Trudeau, who refused to even speak to the protestors, invoked Martial Law. "What if the worst had happened in those following days? What if someone had gotten hurt, what if a police officer had been put in hospital?" Trudeau said. "I would have worn that," he continued. "The responsibility of a prime minister is to make the tough calls and keep people safe."
Trudeau knelt down amid Black Lives Matter (BLM) protests and allowed the chaos to ensue because it fits the woke agenda for this New World Order. And guess what? Numerous Canadian police officers were injured or killed by those BLM protests that were not only allowed to continue but strongly encouraged.
Countless people were hurt by the government's response to the protest of a "fringe minority." The completely peaceful protestors were thrown in jail, sometimes without bail. They had their bank accounts frozen, and assets seized. People who donated to their cause had their assets frozen. The world saw a glimpse of how ruthless Canada has become under Trudeau.