Posted May 7, 2021 by Martin Armstrong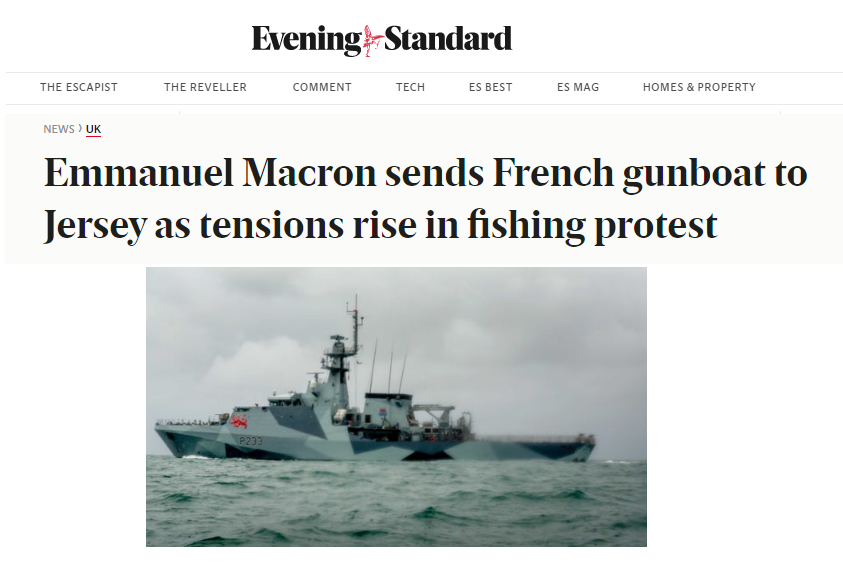 The French and British are at it again, as always. The British Royal Navy and French police boats patrolled offshore from the Isle of Jersey's port of Saint Helier. French fishermen are angry about losing access to waters off the Jersey coast, thanks to Brexit, and have some 70 ships gathered for a protest calling for a blockade of Saint Helier.
Two Royal Navy ships, equipped with machine guns and helicopter landing pads, were sent to track the French demonstration. Macron sent gunships armed with a cannon. So here we have the old traditional hatred between the French and English that extends back to the 13th century. There was an English invasion of France in 1230, which was a military campaign undertaken by Henry III of England in an attempt to reclaim the English throne's rights and inheritance to the territories of France held prior to 1224.
The House of Plantagenet was a royal house that originated from the lands of Anjou in France. Plantagenets' two cadet branches, the houses of Lancaster and York, held the English throne from 1154, with the accession of Henry II at the end of the chaos until 1485, when Richard III died in battle. It was the Plantagenets that transformed England. The Plantagenet kings were forced to negotiate compromises, which led to the establishment of the Magna Carta. During the 15th century, the Plantagenets were defeated in the Hundred Years' War which led to political, economic, and social problems which included English nobles raising private armies.
Eventually, a rivalry between the House of Plantagenet's two cadet branches of York and Lancaster led to the famous Wars of the Roses, which lasted for decades. English succession culminated in the Battle of Bosworth Field in 1485 when the reign of the Plantagenets and the English Middle Ages both met their end with the death of King Richard III.
So the rivalry between France and England has remained in the blood. During the negotiations over Brexit, the French always presented the greatest opposition.