Blog/Behavioral Economics
Posted Oct 30, 2021 by Martin Armstrong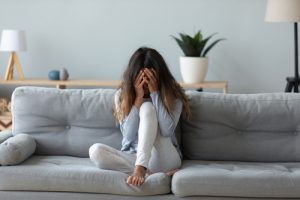 The October 20, 2021, release of the Federal Reserve's Beige Book revealed that the central bank is worried about American's mental health, and with good reason. "Worries about employee mental health, burnout, safety, and vaccine mandates impacting company culture were mentioned," the report noted. "Mental health disorders account for several of the top causes of disability in established market economies, such as the U.S., worldwide," according to John Hopkins Medicine. The National Institute of Mental Health Disorders, part of the National Institutes of Health, originally reported that one in five adults experienced some form of mental illness, but that number has risen to one in four.
Before March 2020, 8.5% of American adults exhibited signs of depression, but that number has skyrocketed to over 27.8%, as reported by Medical News Today (MNT). Researchers noted that mass trauma events such as 9/11 have produced an uptick in depression, but nothing close to the downward spiral that resulted from COVID-19 restrictions. Unfortunately, MNT reported that people do not feel optimistic about the future, even with lifted restrictions.
Crumbling economies, fear-mongering from all media stations, continually changing rules, social isolation, unemployment, lack of exercise, school closings, separation from loved ones, and lockdowns are among the many factors that have deteriorated world health. Both in-person essential workers, who were told they were constantly at risk of contracting the virus, and telehealth workers reported severe distress in the workplace. "Telework can increase the risks of working long hours and burnout – managing the balance of work and life has been particularly hard for working parents juggling professional responsibilities along with increased childcare and home schooling burden," the OECD reported. The EU voted on new policies to prevent worker burnout, following countries such as France, Italy, Spain, and Luxembourg that have adopted "the right to disconnect," which states disconnecting from work, primarily electronic, is now a human right.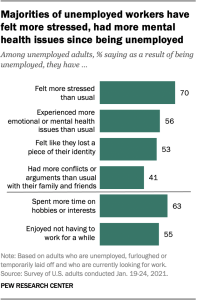 In America, we are still 5 million workers short of achieving maximum employment. Before the pandemic, the CDC reported that "depression interferes with a person's ability to complete physical job tasks about 20% of the time and reduces cognitive performance about 35% of the time." This means about 27.8% of Americans are struggling to actively perform their jobs. "Only 57% of employees who report moderate depression and 40% of those who report severe depression receive treatment to control depression symptoms." As anyone who lives in the US knows, medical care is a luxury, and mental health treatment is an expensive indulgence out of reach for many.
Another reason unemployed Americans have yet to return to the workforce is due to the toll the pandemic took on their mental well-being. The Pew Research Center conducted a study that found nearly 49% of unemployed adults are pessimistic about finding employment again. Numerous studies have shown that unemployed individuals experience higher rates of depression and may lack the energy needed to continue working, especially after prolonged unemployment. In order to reach maximum employment worldwide, the mental health crisis needs to be addressed. Our leaders in government must understand how their policies have crippled the world's health, and time will tell if their actions can be undone.