Posted Jul 17, 2021 by Martin Armstrong
https://www.youtube.com/watch?v=bWBjJkupYw8
In South Africa, the currency has fallen hard as riots have devasted the country. They looted the mall, except for the bookstore. The former South African President Jacob Zuma turned himself in to begin a 15-month sentence for contempt of court. This has sent the country into a tailspin. Contempt of court is an abuse of judicial power, for they claim they can lock anyone up for any reason whatsoever.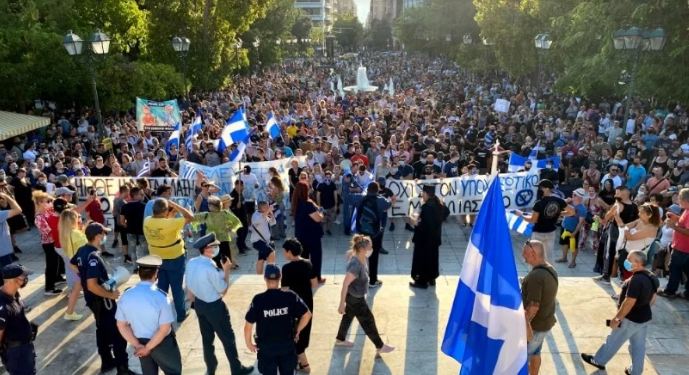 In Greece, there are thousands of people protesting against the discrimination of people who have not been vaccinated and the mandatory vaccinations and other measures imposed by the Greek government to tackle the pandemic in Athens. There are far worse viruses that have taken place, yet governments have not destroyed the economies and taken such totalitarian measures. This in itself has raised skepticism as to what is really going on when the death rate is minimal.
In Britain, 47% of those with COVID have been vaccinated. In Australia, the mob stormed the government as in ancient Roman times resulting in chaos on the streets of Melbourne just hours before the city entered its fifth lockdown. The protesters have marched through the CBD, saying if they do not act, he will get away with it again. What I am hearing is that many are starting to say they would rather die in freedom than live in prison indefinitely. This is our problem. Governments will NEVER admit a mistake, and the fact that they are so involved with the vaccines, we have nobody to offer independent verification of anything.
Meanwhile, the Biden Administration wants to shut down all dissent and has been putting pressure on Big Tech to shut down people who disagree with the administration.
The greatest problem here is that Biden has stated UNDER NO CIRCUMSTANCE will he ever fire Fauci. That implicitly means he refuses to investigate anything about his research or the connection with Wuhan. That means the Biden Administration will NEVER provide the truth about COVID or anything else. The US will not admit that the origin of COVID might be linked to Fauci — he is above any investigation.