Posted Aug 12, 2020 by Martin Armstrong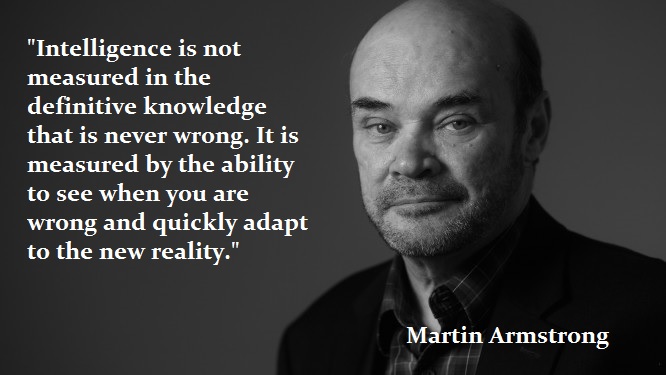 QUESTION: Mr. Armstrong, what is your personal opinion about the rise of all this confrontation over a virus that has justified reducing all freedoms and rights? Do you plan to stay in the United States?
LN
ANSWER: Personally, I am very depressed about the future. This is all choreographed form 2018. This is the merger of the dream of George Soros and his one-world government and Bill Gates who wants to control everyone with digital IDs, eliminate cash, and reduce the population with his Fourth Economic Revolution based on technological control. These have been merged with Klaus Schwab's World Economic Forum which is the typical academic idea that they can change the economy and redesign it like Marx when they have no idea how it actually functions. They assume we can be made economic slaves for the betterment of their ideal world.
This idea of a one-world government will eliminate war is absurd. The differences between ethnic cultures will prevent their very theory from ever working. The United States became a culture of mixed races and European cultures because of DISCRIMINATION which was fair – the last one off the boat was looked down on until they were assimilated and spoke English. Once that took place, then we saw Germans marrying Italians and Greeks marrying English, etc.. That takes place so rarely in Europe. It was the single language and the merging of cultures that made America the true melting pot. Oddly enough, this was the story of the Tower of Babel. Once they could no longer speak the same language, they divided. That was a very insightful example of how culture functions.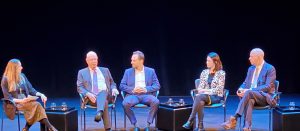 My concern is not that these people will succeed. It is the damage they are causing which will lead to the breakup of the West and thus the shift of the Financial Capital of the World to China. I truly wish I was not alive to witness this. I understand why they hate me so much and why they will do whatever they can to discourage people from even looking at Socrates. I was there in New York for the premiere of the Davos movie. I met most of the mover & shakers. They do not like the forecasts of Socrates and they are intent upon seeing their covert agenda through to achieve their goals. You will not see social distancing at Schwab's January World Economic Forum. That will magically go on schedule. His topic will be the GREAT RESET to push his agenda.
We have the goldbugs still preaching that the end is near because by detaching gold from any form as money they continue to argue that the monetary system will collapse. They are so far out of touch it is laughable. The entire monetary system is moving digital and there remains a risk that these overlords will advocate confiscating gold or making it illegal to own and use in any underground barter economy. This is all about POWER and converting society into economic slaves as they reduce population and move to eliminate fossil fuels. I wish this was such a simple argument over what is money. We have moved way beyond that.
We must adapt to the real battle that we face. This has gone beyond just a Sovereign Debt Crisis and a Monetary Crisis Cycle. This is an all-out war for the domination of the world economy as these globalists seek to redesign our lives to the arrogant views they have crafted in their minds.
I have met most of these people trying to redesign the world. You look into their eyes and you see something far beyond a cold contempt for human society. They do not believe in God. They have taken upon themselves to play God. If they even considered there was a God, their view is he was an idiot for the economy does not function the way they would like it to operate. So they either blame God or more likely do not believe in any higher power beyond themselves. This was the very same attitude that dominated Communism. They have used this virus to justify shutting down even religion.
As for where I will migrate to, I am still working on that forecast.