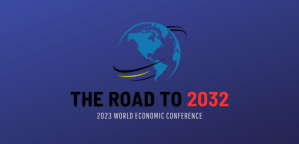 The anticipation is building for the 2023 World Economic Conference, and we're thrilled to offer you not just one, but two fantastic virtual ticket options to enhance your conference experience! Whether you're unable to attend in person or simply prefer the convenience of virtual attendance, our Virtual and Virtual Plus options are designed to cater to your specific needs.
Virtual Ticket – $1500: Unlock a World of Insights
Our Virtual ticket is your passport to an immersive online experience that brings the conference directly to your screen. Priced at $1500, this option provides you with:
Live Stream Access: Tune in to all the conference sessions in real-time from the comfort of your home or office.
Presentation Slides: Stay engaged and follow along with detailed presentation materials.
Video Recording: Missed a session? No worries! Access recordings to catch up on any content at your convenience.
WEC Event App Access: Join our exclusive event community, where you can access the live stream, presentation slides, and recordings seamlessly.
Bonus Reports at Special Rates: Get the chance to purchase any bonus reports at an exclusive discounted rate, enhancing your post-conference learning experience.
Virtual Plus Ticket – $2000: Elevate Your Virtual Experience
Take your virtual experience to the next level with the Virtual Plus ticket at $2000. This comprehensive package includes everything from the standard Virtual ticket and more:
Bonus Conference Materials: Receive a curated package of bonus conference-related materials, including exclusive reports and/or videos provided by Martin Armstrong.
Online Access to Morning Information Sessions: Start your conference days off right with online access to morning information sessions featuring insights from Erwin Pletsch on both Saturday and Sunday.
Exclusive Event App Networking Feature: Connect with fellow attendees through our Event App Networking Feature, facilitating valuable connections and collaborations.
As we gear up for the 2023 World Economic Conference, make sure you don't miss out on the opportunity to customize your experience with our virtual ticket options. Whether you opt for the Virtual or Virtual Plus ticket, you'll gain access to a wealth of knowledge, exclusive materials, and networking opportunities—all from the comfort of your own space. Secure your virtual seat now and prepare to embark on a journey of economic insights and networking excellence!