Question: Mr. Martin Armstrong. Thank you for sharing your knowledge and Socrates. I rely on your models that have yet to steer me wrong when decoded. Your post was quite alarming. I purchased tickets to your conference and have been in communication with others that I have met throughout the years at these events. Everyone is concerned after your warning that this is the last World Economic Conference. Why?
Answer: The last World Economic Conference? Perhaps. But that question is not dependent on me. For you see, our long-term forecasts have been incredibly accurate. No one has tried to defy their projections more than me. But Socrates does not rely on personal opinion and I am willing to share the full truth behind its projections.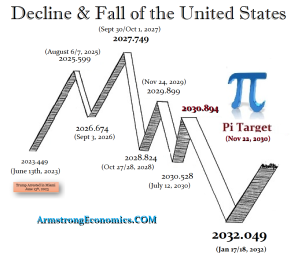 The models saw an uptick in the War Cycle starting in 2014, and accurately selected Ukraine as the hot spot. So from a pure data perspective, what is taking place is nothing new to history. This is all in a database that monitors one action and works out the path of reaction, kind of like plotting the path of a hurricane. When you have a long historical database, that is the ONLY way to forecast that Ukraine would be the place where World War III begins. Such things can not be accomplished from a personal "opinion" perspective year in advance even before the 2014 Revolution in Ukraine.
The road to 2032 is extremely volatile and leaves the most experienced traders vulnerable to trading off of emotions. I will explain in detail what the models have in store for us as we move closer to the 2032 Paradigm Shift as the world will look nothing like what you see today.
As for me, I am ready to call it in – beam me up Scotty. Yet I have perhaps a calling to reveal the truth to those brave enough to accept it. Americans will be required to obtain a Visa to travel to Europe next year. Travel will become increasingly hard as totalitarian governments restrict access to free movement. This may very well be the last year we can host an in-person conference with the same international audience. The convergence of cultures has become one of the most insightful aspects of these gatherings, and while virtual is always possible, this could be the last in-person World Economic Conference.
I am providing all attendees with a hardcover copy of my book, "De-Dollarization." America's reign as the financial capital of the world is coming to an end, and the dollar will suffer the consequences.
There are still tickets available. Reach out to my staff at [email protected] or click here. What I have to share may be the most important convergence of cycles I have seen in my lifetime. The dates are November 17, 18, and 19 in Orlando, Florida. Everything will be revealed.