Blog/World Economic Conference
Posted Oct 28, 2022 by Martin Armstrong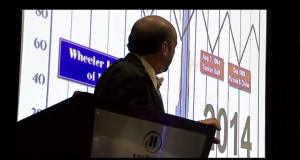 It is not too late to join us at the annual 2022 World Economic Conference — in person or virtually! The three-day conference will be held in Orlando, FL, USA, from November 11-13, 2022. For the first time, we are offering two tiers of specialized ticket options for our virtual attendees as we understand travel has become increasingly difficult post-2020. Davos and the Future Investment Initiative may attract headlines, but the World Economic Conference provides an underground, behind-the-curtain look at the world economy in a completely uncensored way.
No other conference provides information based on analyses from AI software capable of tracking every market simultaneously. It simply is not possible for one person, or even a hundred people, to see the future as our computer does. I may be presenting the analysis, but none of it is my opinion. I am shocked at what our computer is projecting and take no pleasure in announcing the turmoil ahead.
As we head into this political abyss, we must respect the fact that capital is being driven by confidence. No single country can possibly afford to look at events only domestically. Everything we have been forecasting since 1985 is coming to a head and this is the final opportunity to learn what is to come in the volatile year ahead.
It is not too late to attend the most important event of the year. Click here to learn more.