Blog/World Trade
Posted Apr 5, 2023 by Martin Armstrong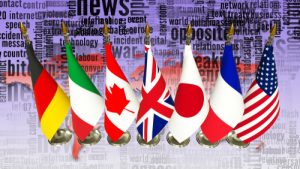 Japan is an energy-dependent nation that relies on imports to function. Despite being a G7 member, Japan has remained largely silent on the Russia-Ukraine war and is the only member to deny Zelensky's pleas for weapons. The prime minister was the last in the alliance to visit Ukraine amid the war. The G7 nations set a $60 per barrel price cap on Russian crude but granted Japan a pass.
Japan has purchased nearly 748,000 barrels of Russian oil for $70 a piece in the first two months of the year alone. All of the MSM headlines read: "JAPAN BREAKS ALLIANCE WITH WESTERN ALLIES," as if there were an alternative. Even conservative outlets are saying that Japan has broken ties with the West. Japan is unwilling to deliberately allow its nation to crumble from an energy shortage, unlike the "Build Back Better" nations.
Oil prices surged on Monday after OPEC+ announced plans to limit production, which will lead to a rise in global prices. Energy costs affect the cost of everything from the supply chain to food. Yet, the countries that have the ability to drill, such as the US and Canada, are refusing to do so despite energy prices significantly contributing to overall inflation and economic instability.
The West chastised India and China for purchasing Russian oil. They don't want to lose their Japanese ally and are attempting to give them a "free pass," but only until September. What happens then? Will Japan be forced to break its alliance with the G7? The West was hoping that longstanding tensions between China and Japan would push them into this proxy war, but the Japanese government is not willing to implode its economy. Let us also remember that Japan was forced to close numerous nuclear power plants after the earthquake hit in 2011. They are completely reliant on imports. It seems that only nations willing to surrender their economies in the name of abandoning fossil fuels, with no alternative, are ousted from the West's good graces.