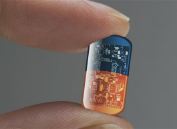 As Biden said, the current crisis will end at the state level. Well, luckily Governor Ron DeSantis is continuing to support his promise to improve the economy with dealings that will benefit the nation. DeSantis previously announced plans to open Florida ports around the clock and measures to attract new labor to the Sunshine State.  The governor is now investing $10 million in semiconductor production, a crucial albeit an increasingly rare part that is vital for technology.
DeSantis accused the Chinese Communist Party of stealing American technology and threatening the global semiconductor supply chain. America is overly dependent on foreign imports of semiconductors, and although Taiwan, a US ally, mass manufactures semiconductors, its reliance and political strife with China could lead to trouble.
"We cannot be captive, key sectors of our economy should not be captive to some of these foreign nations, in particular, outfits like the Communist Party of China…So the more we have this capacity within our own country but particularly within our own state here in Florida, the more opportunities there are going to be here for people and the more secure both our economic supply chains will be and our national security," DeSantis stated.
Strong manufacturing is crucial to the American labor force. In fact, each manufacturing job supplements an additional 7.4 jobs in other industries. The Semiconductor Industry Association (SIA) stated that global sales of semiconductors totaled $48.8 billion in October 2021, marking a 24% annual increase.
The Biden Administration has been reluctant to address China's stronghold over the semiconductor industry in fear of retaliation. Former President Trump attempted to curb China's borderline monopoly by withholding American machinery used to make the chips. China simply found a way to create those machines on their own (it is a free market after all). Bloomberg reported that China accounts for over 50% of the chip industry's sales, which have surpassed the $400 billion mark. If China chose to retaliate, as the US and China tend to do, then it would have an impact on the overall growth prospects for US tech.