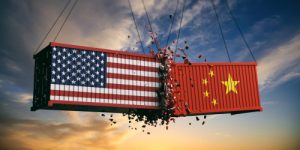 Chinese President Xi Jinping has a request for Federal Reserve Chairman Jerome Powell — do not raise interest rates. "If major economies slam on the brakes or take a U-turn in their monetary policies, there would be serious negative spillovers. They would present challenges to global economic and financial stability, and developing countries would bear the brunt of it," Xi said during the virtual Davos meeting.
The Fed indicated that they will gradually raise rates this year after failing to combat inflation through artificially low rates. Rates have been low for quite some time and "slamming the breaks" isn't exactly the situation here. Poor countries risk facing a spike in debt repayments, but that is likely not Xi's main concern.
Xi realizes that China will be forced to abandon easing policies when the Fed raises rates. China is burdened with debt, namely in the real estate sector, and developers such as Evergrande cannot currently climb out of its financial grave. China's GDP fell to 4% year-on-year in Q4 2021 and advanced only 1.6% on a quarterly basis. The People's Bank of China cut rates by ten basis points on Monday, but they're going to need to change their strategy once the Fed does.
Capital will begin to flow from China to the US once it becomes an increasingly attractive place to park money. If America decreases the demand for imports, Chinese exports will feel the brunt of the burden. China heavily relies on its top trading partner, with over $463 billion entering the US through November.
"We will build a unified, open, competitive and orderly market system where all businesses enjoy equal status before the law, and have equal opportunities in the marketplace," Xi said. Well, that is not how the world economy functions. The Fed will not abandon domestic interests in favor of foreign ones and Powell knows he needs to act soon to control runaway inflation.