Posted Sep 29, 2022 by Martin Armstrong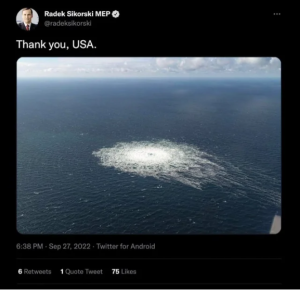 I rarely believe in coincidences. Everyone is perplexed as to why there are sudden leaks in the Nord Stream pipelines in the Baltic Sea connecting Russia to Germany. The first explosion was recorded on Monday near the Danish island of Bornholm. The second blast happened later that evening and was so powerful that scientists equate it to a 2.3 magnitude earthquake.
Numerous people are claiming that Russia sabotaged the pipeline, but numerous clues indicate someone else was at play. Radek Sikorski, Poland's former minister of national defense and EU Parliament member, posted an image of the leak with the caption, "Thank you, USA."
The USA is certainly no stranger to targeting Russian pipelines. In January 1982, Ronald Regan and the CIA planned to destroy the Soviet Union's economy by using the technology available at the time to create a massive explosion. The US wanted to block Europe from importing Soviet Western gas amid the Cold War and was willing to take extreme measures. Thomas C. Reed, a former Air Force secretary who served in the National Security Council, wrote a book entitled "At the Abysss: An Insider's History of the Cold War."
"In order to disrupt the Soviet gas supply, its hard currency earnings from the West, and the internal Russian economy, the pipeline software that was to run the pumps, turbines, and valves was programmed to go haywire, after a decent interval, to reset pump speeds and valve settings to produce pressures far beyond those acceptable to pipeline joints and welds," Reed writes. According to the Washington Post, Reed later commented that it was the "most monumental non-nuclear explosion and fire ever seen from space."
What about other nations in Europe? No one is claiming responsibility, but they are stating that it was a deliberate act of terrorism. "It is the authorities' clear assessment that these are deliberate actions -– not accidents," Danish Prime Minister Mette Frederiksen said Tuesday. Sweden's Prime Minister Magdalena Andersson said, "it is probably a case of sabotage," and they are not ruling out any scenarios. Polish Prime Minister Mateusz Morawiecki also called it "an act of sabotage." "The era of Russian domination in the gas sphere is coming to an end," Morawiecki declared. "An era that was marked by blackmail, threats and extortion."
The United States is also claiming to be perplexed by the issue. White House Press Secretary Karine Jean-Pierre said she would not "speculate on the cause." US President Joe Biden hinted at the cause in February 2022. In the video above, Biden tells reporters that if Russia invades, "then there will be no longer a Nord Stream 2. We will bring an end to it." When a reporter asked just how the US would complete the task, Biden ominously said. "Trust me, we will do it."
This was clearly an act of sabotage, but who was the culprit? The West is pointing to Russia, while Russia is pointing to the West. Something does not add up.