@cbseveningnews

The Pentagon released more than a dozen videos that show Chinese military planes harassing U.S. military planes in international airspace, accusing China of risky and reckless maneuvers. #military #airforce #china #news
China has attempted to remain neutral but the Neocons won't allow that to happen. China is enjoying its recent economic boom and building strategic partnerships through trade and international relations. China has grown to become a global power and will become the next financial capital of the world when all is said and done. Never in my wildest dreams did I ever expect personally that the West would be the aggressor. Now I can see Neocons, who I even personally have known, are really in control of the Biden Administration. The Pentagon released the video above, with CBS News claiming Chinese fighter jets were harassing US planes in international airspace.
Were the planes flying by the coast of California or Hawaii? No. US warplanes were flying near the Taiwan Strait once again. China has repeatedly warned America not to interfere in its One China policy with Taiwan. The media spins the situation as if the government actually cares about the people of Taiwan. The truth of the matter is that the Neocons want to play war games with our tax dollars and do not like China's recent success or status as an economic powerhouse.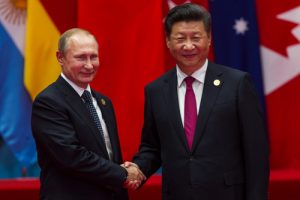 China will eventually be pushed to the brink and will have no alternative but to engage in war. The Pentagon said that US and Chinese fighter planes have come in close contact 180 times since 2021, surpassing the number of encounters of the past decade. China now has the ability to push back and knows the West's resources are stretched thin.
Putin visited Xi this week in Beijing where he was greeted as a guest of honor. Syria, Saudi Arabia, and Iran are heavily backed by Russia and China, among other Middle Eastern nations. The BRICS partnership has grown so strong that no one is dependent on Western energy, and eventually, no one will be dependent on Western trade or debt. They no longer need to use the currency of their adversary. China is attempting to remain neutral in both the Israel-Palestine and Russia-Ukraine wars, but Taiwan is where they draw the line.
As a Senator, Joe Biden scoffed at the idea of a China-Russia alliance in the event of NATO encroaching on Eastern Europe. Take a look at the video above from 1997 — yes, that was Joe Biden before his health declined to the point where he can hardly speak or step off a stage. Putin was Yeltsin's deputy-in-chief at this time of this speech, and Bill Clinton was the president of the US. Baltic states were lining up to join NATO back then, which threatened Russia's national security. Biden insisted that Russia would have no alternative but "to look West." This was one of the original plans to infiltrate Russia and install a pro-Western leader.
"Yes, we see that some people consider it an attempt by the People's Republic of China to put someone under its thumb, but we see otherwise. We just see a desire for cooperation," Putin stated. Last year, China and Russia signed a "no limits" partnership in the wake of the war in Ukraine. They are teaming up against Western aggression, it is not the other way around. All of the players are aligning and preparing for the inevitable.