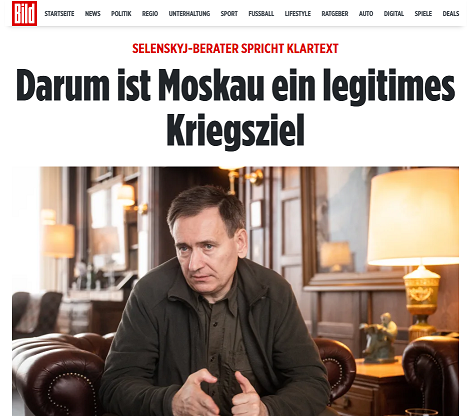 To get the weapons for massive destruction, Zelensky lied and promised that the weapons would not be used to target Moscow. Kiev's forces will not hold back when it comes to hitting locations inside Russia, according to Fyodor Venislavsky, a member of the Ukrainian parliament's National Security, Defense, and Intelligence Committee. Speaking to Germany's Bild tabloid on Saturday, he also described Moscow as a "legitimate military target." The West is arming Ukraine for long-range missile attacks on Moscow. Putin and the hardliner will now have NO CHOICE and will be fully justified in nuking Ukraine to end the war the same way the United States nuked Japan.
The corruption in the Western media is astonishing. This is not being reported in the USA or Europe. It is being reported in the Middle East and in Russia. The international fake news organization, Trusted News Initiative (TNI), a consortium to control all the mainstream Western Media, is promoting World War III and we are to be told Russia is evil and we must go to war to destroy every individual Russian on the planet. There is no longer any independent journalism left. I had learned in grade school history class that the media created the Spanish American War. Pulitzer later felt guilty and donated his assets to Columbia University to hand out awards for journalists when Pulitzer was the father of yellow journalism and sheer corruption.
This is ABSOLUTELY what our world leaders want to take place. In their view, Gates has convinced them that there are just too damn many of us and they cannot pay for all the pensions. It's time to thin the herd. They need war to reduce the population and eliminate the debt crisis.
For all of those who support Zelensky and hate all Russians or at least buy the bullshit propaganda about Putin, take a last look at your children and grandchildren You are condemning them to a future that may not even exist. Your stubbornness and refusal to look at the truth have emboldened our World leaders to steer us directly into world war III. I have had Ukrainian employees on both sides from Kiev (Its original Russian spelling) and Donetsk. I have had experience with Ukraine and they are DESPISED by all their neighbors for they are the remnant of Hitler's Nazis. The wheel of fortune has completed its revolution. We are now supporting the Ukrainian Nazis Ethnic cleansing operation of the Donbas.
Now, former President of France Hollande has come out and confirmed that they negotiated in bad faith to create the Minsk Agreement ONLY to buy time for Ukraine to build its army to start World War III. Hollande has come out and also confirmed there is no interest in peace, this is to destroy Russia – plain and simple. This will end ONLY when Russia fails. There absolutely no reason for China or Russia to negotiate with Europe or the United States when they NEVER keep their word. Treaties mean absolutely nothing anymore and that necessitates World War III for there is no other solution.
I warned before, Zelensky was put in place to start World War III. I publish that Zelensky was intent on creating World War III in February 2022.