Posted Dec 1, 2022 by Martin Armstrong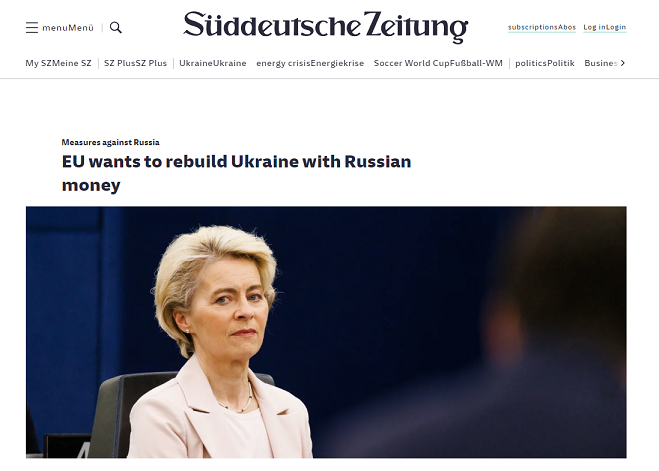 If you dare suggest peace, you suddenly are painted as a Putin Supporter. The West simply wants war and this is really about Climate Change. Even the propaganda pretending this is all Putin and if somehow he was removed, the world would be better is utter nonsense. We may see the reality of that come April/May 2023. The West is perfectly fine with sacrificing the Ukrainian people for their agenda. They are just collateral damage that they are willing to sacrifice until the last Ukrainian dies.
There are people who know Russia as I do. The press will not air their views or question the narrative they have been instructed to push because it goes against their desired agenda. Former Commander of US Army General Ben Hodges admitted that Putin's successor will be "much worse." Hodges said. "We see the North Caucasus and (Chechen leader Ramzan) Kadyrov, who is anticipating Russia's possible collapse and is trying to protect himself somehow. I absolutely don't call for regime change in Russia – this is the choice for the Russian people to make, but we must understand that whoever comes after Putin will be much worse."
What the Western news is presenting is worse than propaganda – it is a deliberate lie. The West is really waging war for Climate Change. This is why not a single Western leader is calling for any peace or negotiation. My mentor in geopolitical analysis has been Henry Kissinger. Henry has publicly stated that EVERY president has always invited him to the White House but not Biden.
On the other side of the world, the US has been supplying military equipment to Taiwan since 1979 under the Taiwan Relations Act. Before Biden, the US has agreed to acknowledge the One China policy that states Taiwan is under Chinese rule. "A direct confrontation should be avoided and Taiwan cannot be the core of the negotiations because it is between China and the United States," Kissinger stated, going as far as to say neutrality is crucial to "overall peace."
In pledging to defend Taiwan from any Chinese attack, the president has made war with China much more likely. He has openly reversed policy with China since the days of Nixon. The Climate Change people in his administration driven by the insane Progressive Green Movement, has done everything possible to create World War III with no regard for humanity because the planet takes top priority. I suppose a bunch of nukes flying around is good for the planet if it removes more of we – the new plague of vermin.