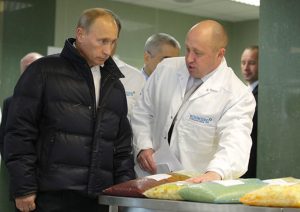 Wagner leader Yevgeny Prigozhin has offered an explanation for the attempted coup—"I went crazy." An article by Proekt says Yevgeny Prigozhin was at St. Petersburg's Konstantinovsky Palace in 2011 when then-prime minister Putin announced plans for the presidency. "Great hairstyle," the Russian leader said, pointing to Prigozhin's bald head. The two were friendly and Prigozhin has supported Putin throughout his career. Prigozhin began his career under the guise of a hot dog salesman at a car dealership before he became the feared mercenary leader. Imagine asking this man for ketchup or mustard?
Soviet army officer Andrey Bakonin came to the car dealership in 1991, where he met the future Wagner leader. He was always involved in "other" activities and hustled where he could. "Prigozhin is a tough guy," recalls a reputable St. Petersburg businessman who personally knew many of the heroes of the 90s in St. Petersburg. "Besides, he is Jewish, which may have played a role in the fact that Mirilashvili and Spektor (prominent members of the Jewish community in St. Petersburg) hired him." He made important connections on the ground and opened a restaurant that attracted the elite, funded by Mirilashvili. When Putin became president, he arranged a number of meetings at the restaurant. The likes of President George W. Bush and Japanese Prime Minister Yoshiro Mori ate at the establishment.
He allegedly had staff eavesdrop on important meetings held at his restaurant and reported back to the man in power. Prigozhin's associates say he has always been prone to violence. They alleged he hired a man called the "Teacher" who would brutally beat his staff, who often doubled as spies. He had a keen interest in war and reportedly sat over huge world maps, outlining where friends and foes resided. Wagner PMC first began around 2014 as a detachment from Lieutenant Colonel Dmitry Utkin's command. He was fighting for Putin. PMC became involved in fights in Syria and Africa and took it extremely personally. He contracted cancer at one point and is said to be hyper-conscious of his health. He has quite an interesting story.
But what this all entails is an apology to Putin. Claiming he had a psychological break paints Putin as the strong leader, while Prigozhin remains the unstable grunt with no intentions of taking over Russia. Some outlets state that his medical history caused him to act erratically. His associates are using every excuse to explain why he staged a coup and dared to oppose Putin. Wagner has begun to hand over weapons to Russia. Is Prigozhin in exile in Belarus or back in Russia? Is he alive? Many do not believe he actually met with Putin after the event on June 23. No one is quite sure, but his plea of insanity is a final attempt to ask for forgiveness and tell the world that he is subservient to the Russian government.