US Secretary of State Antony Blinken is set to visit Beijing this weekend. Blinken was originally scheduled to visit China in February, but it was delayed after Chinese spy balloons entered US airspace. Sending Blinken to China is like sending a thief to rob the headquarters of the National Rifle Association. Blinken has repeatedly offended China and gushed over the prospects of war. China does not want war, they repeatedly requested for the US to stay out of its affairs.
The meeting is already off to a bad start here. Chinese Foreign Minister Qin Gang called Blinken on Tuesday to remind him to "show respect" before he arrives. CNN already reported that Blinken plans to discuss Taiwan and will "advocate strongly" for military communications. These do not align with the main goals of the meeting which is intended to discuss global macroeconomic stability, global security matters, and establishing proper communication channels. China's military is not going to form an open line of communication with the US military. China does not advocate the war in Ukraine and has repeatedly tried to remain neutral.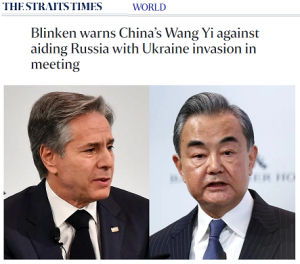 "I hope that the U.S. side will take practical actions to implement the important consensus of the meeting between the two heads of state in Bali, move in the same direction as the Chinese side, effectively manage differences, promote exchanges and cooperation, and promote the stabilization of China-US relations," Qin said, according to the South China Morning Post. This will not happen. If the US wanted to stabilize relations with China, they would send anyone other than Blinken.
The US is fanning the flames of war and is the aggressor in this situation. They continue to antagonize China, hoping that Beijing will make a move either with Russia or Taiwan so that they can jump on the opportunity for war. The neocons are not concerned about our economy, the lives of the people, or maintaining relations with America's top trading partner. Expect the headlines early next week to read "Relations Between China and the US Further Deteroriate."