Posted May 25, 2023 by Martin Armstrong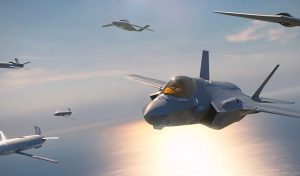 The Lightning II or F-35 is one of the most sophisticated fighter jets available. Created by Lockheed Martin, the jet is designed for stealth and destruction. This elite weapon is the most expensive plane ever built, with an estimated lifetime cost between $1.4 and $1.6 trillion. The United States owns more of these jets than any other nation, but a recent report reveals that the Department of Defense is missing thousands of F-35 parts.
Although the F-35 costs around $80 million, the operation costs are very high, with an average flight costing $36,000 per hour. Lockheed Martin has claimed that it could reduce flight costs to $25,000 per hour if the Pentagon awards them a lucrative maintenance contract. The Government Accountability Office (GAO) issued a report in 2019 stating that the F-35 had a major shortage of spare parts. "F-35 aircraft performance is falling short of warfighter requirements—that is, aircraft cannot perform as many missions or fly as often as required. This lower-than-desired aircraft performance is due largely to F-35 spare parts shortages and difficulty in managing and moving parts around the world," the reported noted.
The problem of managing moving parts globally was never solved. In fact, the GAO released a new report stating that thousands of spare parts are missing, "the total value of which is unknown." The Pentagon never kept a record of its most prized aircraft, which are held in over 50 locations globally. The Pentagon's F-35 program office spent $12 million to conduct the inventory, discovering they were "unable to provide the cost, total quantity, and locations of spare parts in the global spares pool." The GAO is condemning the Pentagon for its "lack of accountability" and said this massive error highlights why the Defense Department needs to conduct a full audit of all its inventory.
The Pentagon handed over the power of record-keeping to the manufacturer, Lockheed Martin. Lockheed Martin seemingly does not know where the parts are either, but they'd happily supply the US with more. The nation is trying to cut funding everywhere but has lost at least millions from this mismanagement. One must wonder if only the bill, but not the parts, existed. The US did gift Ukraine an F-35 and positioned numerous F-35 jets in strategic NATO member locations on the eastern front. Lockheed Martin believes that over 400 F-35 aircrafts will be stationed in Europe by 2030. The defense contractor is planning for a major war, while the US government is ill-prepared and cannot account for its own weapons.