Posted Nov 18, 2021 by Martin Armstrong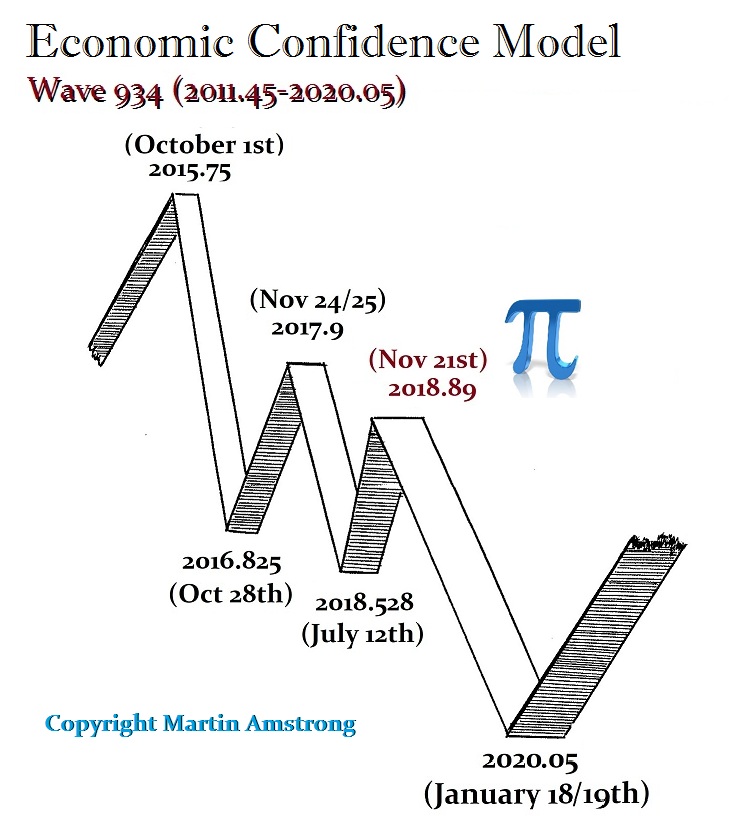 I warned that 2015.75 was the peak in confidence in government. It has been declining ever since. But this also marked the political shift where Donald Trump was the first non-politician to be elected president, which was right on target with our model that was 31.4 years from the start of this major wave 1985.65, which gave us 2017.05 — the precise day that Trump was sworn in.
However, 2015.75 also marked the beginning of Soros' aggressive attempt to change the world. Since 2016, Soros has been donating sums exceeding $1 million to the campaigns of progressive politicians, particularly in the United States. He even targeted the local elections of state district attorney elections. For example, he was making large contributions altering the political landscape drastically for such elections never saw so much money. Larry Krasner was elected as the District Attorney of Philadelphia with the help of a $1.5 million ad campaign funded by Soros in 2017. That is just one example. Soros donated $6 million to a PAC we know tried to help Hillary against Trump in 2016.
John McCain was accepting funding from Soros, and it was John McCain who sponsored the Magnitsky Act, which was a huge cover-up of the attempt by the bankers to take over Russia back in 2000. It was McCain who also handed the fake Steele dossier created by Hillary to Comey at the FBI to start the entire Russian investigation that was fake. It was Comey who was the US Attorney who kept me in civil contempt and denied a trial for seven years on a statute that sets the maximum term of confinement to 18 months (28 USC 1826). I was released only when the Supreme Court ordered them to explain what was going on.
The year 2016 marked Soros' 86th birthday. Ever since then, he has become very aggressive politically. I do not believe he will be on this earth beyond 2024 without creating artificial organs. That will not replace a failing mind. Next year, he will be 92, and his actions are becoming increasingly demigod-like insofar as he appears desperate to alter the world. I question his mental ability at this time.  I am concerned that he may have developed dementia. I don't mean that he is a bit forgetful, but he appears to become more aggressive, and we may yet see him becoming hypersensitive to criticism. I understand that these may be early signs of dementia. This is not very good for the world when someone is trying to buy his way to alter our way of life when he is about to check out.