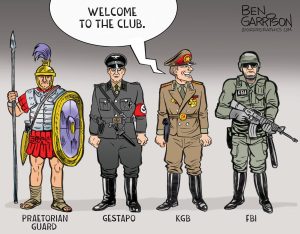 We all know that the intelligence agencies have become President Biden's personal Gestapo. Biden is now permitted to carry out hits on those who defy him. Craig Robertson, a Utah resident, threatened the president on social media. Robertson is now dead.
"I hear Biden is coming to Utah. Digging out my old ghille suit and cleaning the dust off the m24 sniper rifle. welcom, [sic] buffoon-in-chief!" the Utah man posted online two days before his death. Do you know how many people have threatened to murder Trump and his family? One has-been comedian even posted images of herself holding what appeared to be Trump's severed head. Nothing happens when baseless threats are made unless there is a genuine threat to the safety of the president. We have (had) free speech but now the law is listening in to everything we say and do online.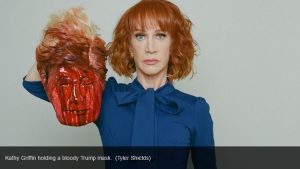 The FBI raided Robertson's home on Wednesday, before the president was set to arrive in Utah.  "The FBI is reviewing an agent-involved shooting which occurred around 6:15 a.m. on Wednesday, August 9, 2023, in Provo, Utah. The incident began when special agents attempted to serve arrest and search warrants at a residence. The subject is deceased. The FBI takes all shooting incidents involving our agents or task force members seriously. In accordance with FBI policy, the shooting incident is under review by the FBI's Inspection Division. As this is an ongoing matter, we have no further details to provide," the spokesperson said.
Robertson had also posted about wanting to murder D.A. Alvin Bragg and California's Gov. Newsom. They claimed Robertson's misspelled social media post broke federal law through interstate threats, influencing, and impeding and retailing against federal law enforcement. He was also charged with threatening the president. Again, you can scroll social media and see countless threats toward Republican politicians. It is not right but no one bats an eye, let alone sends a kill squad to their personal residence.
The Secret Service also commented on the incident. "We are aware of the FBI investigation involving an individual in Utah who has exhibited threats towards a Secret Service protectee. While we always remain in close coordination with the Bureau, this is an FBI-led effort and we refer any related questions to the FBI and DOJ," the spokesperson wrote. No one mentioned if this man had a plan in place, all they said is that he was a gun owner.
We now must be very careful of what we say. We cannot joke or make note about our Dear Leader. Big Brother is watching everything you do and say online and there will be repercussions for those who threaten  "the big guy."