Blog/The Hunt for Taxes
Posted Nov 8, 2022 by Martin Armstrong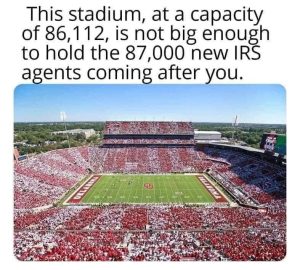 Biden's IRS army of 87,000 new armed recruits is coming under fire by the Republican party. Sen. Chuck Grassley (R-Iowa) and Sen. Jon Thune (R-SD) are working on a bill that would require Congress to approve IRS spending. Both men also sit on the House-Senate Joint Committee on Taxation. Biden would like to spend $80 billion on his IRS army over the next decade to shake down American taxpayers.
"Our bill will ensure that the IRS is answerable to the American people in how it uses this money and will force it to forfeit funds every day it's not in compliance," Grassley said. "If our bill becomes law, the Biden administration's IRS would have to answer to the American people, not Washington bureaucrats," Thune added. The American people fund the IRS, and it is only right that they vote on how their money is spent. In fact, they should vote on whether there is a need for the IRS at all.
If the bill passes, the IRS must explain how they use their money every year. Funding to the IRS would be withheld if they failed to comply. If Congress turns red this November, this measure is likely to pass. This would be a great first step in a long overdue overhaul of the entire US tax system, which is designed to be as complex as possible so that the government can squeeze funds out of every citizen.