Blog/Gov't Incompetence
Posted Mar 11, 2022 by Martin Armstrong
I bought this ancient gold Double Aureus of Emperor Gallienus (253-268AD) for 3,000 euros at an auction in Germany which weighs 5.38 grams and there are 31.1 grams per troy ounce. Even at $2,000, the gold content is $345.98. I had to give the purity to customs in order to clear it. The silver and bronze they did not care about.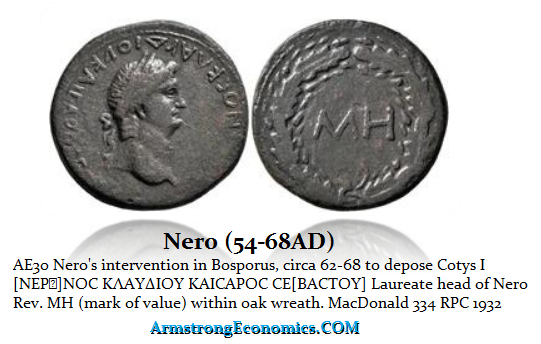 Then from another auction, I purchased a rare coin of Nero from his invasion of Bosporus in the Black Sea. Because the "origin" of ancient Bosporus is Ukraine, FedEx has refused to ship it to me.
Welcome to the New World Order where anything of gold is to be tracked and even an ancient coin that was struck in the Ukraine region in 62-68AD is banned from shipping all thanks to Biden's war against Putin.
You really cannot make up this level of stupidity.