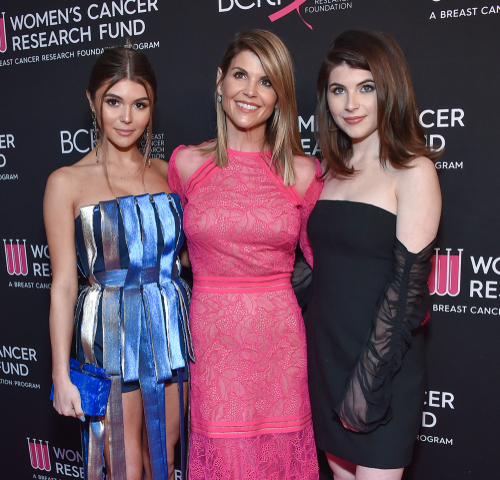 Olivia Jade Giannulli (left) Lori Loughlin(center)
It is really interesting to see how many schools are bribed. There are even allegations against Yale. This all seems to be part of a propaganda conspiracy that you cannot get ahead in life without a degree. Most of the major billionaires who created major companies were all dropouts.  Lori Loughlin and her husband, fashion designer Mossimo Giannulli, were arrested for allegedly participating in a college admissions bribe scam to get their two daughters into college. Their youngest daughter, Olivia Jade Giannulli, 19, a very popular YouTuber, spoke out about her dad's former college experience in which he "faked" his way through his education. As they say, the truth emerges from the mouths of babes. She publicly stated in an interview with the Zach Sang Show on March 8th that she looks to her dad – who created the popular fashion line Mossimo – for "inspiration." She continued:
"He didn't come from a lot so it's cool to see that he built it all himself," she said. "He, like, built his whole entire brand and he wasn't actually, like, I don't know if I'm supposed to say this, ever enrolled in college. But he, like, faked his way through it and then he started his whole business with tuition money that his parents thought was going to college. That's, like, such a different time. I don't know if I was supposed to say that, but it's okay."
I have stated many times that while working around the world with major corporations, I have yet to meet anyone who is actually doing something in which they had a degree. Most CFOs seem to have engineering degrees. You cannot get a degree to be a hedge fund manager, President of the United States, a member of Congress, a state governor, mayor, race car driver, or CEO of a major company. There is not even a degree requirement to be a member of Congress. The real conspiracy is telling people they have no future life without a degree. This is the real scam: making money by burying the young in a lifetime of debt after paying for degrees that do not produce jobs.