It comes as no surprise that George Soros had once supported Hamas. Although he is Jewish, George Soros was able to evade capture by siding with the Nazis during World War II. The clip has since been removed from YouTube, but Soros explained on an episode of "60 Minutes" how he proudly served the Third Reich. Now, the media is up in arms after finding out that the elder Soros published an article in the Financial Times on March 19, 2007, entitled: "America and Israel Must Open the Door to Hamas."
Soros bashed George W. Bush for supporting the Israeli government during the 2006-2007 Fatah-Hamas conflict. "Demonstrating military superiority is not sufficient as a policy for dealing with the Palestinian problem," Soros wrote, urging the former administration to recognize Hamas as a legitimate form of government rather than a terrorist organization.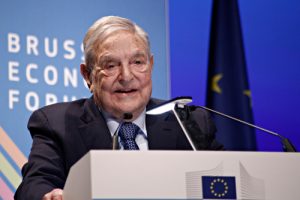 Soros gifted Al-Shabaka $550,000 between 2017 and 2021, as revealed by the MRC. "George Soros has consistently and continuously funded the most hateful, anti-American, and anti-freedom organizations in the world, and that includes terrorist organizations that want to bring an end to a Jewish state," said MRC Business Vice President Dan Schneider. "But instead of shining a light on his disgusting plans, legacy media has protected him from criticism." Soros and the Open Foundation Society have funded terrorist groups throughout the world, and will likely continue to do so through his foundation under the control of his son, Alex.
The whole "there are Nazis on the far-left" conspiracy has been proven factual. How much more evidence does one need?